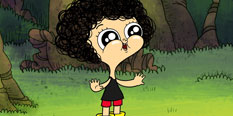 Jorel's Brother Games
🤔 What are Jorel's Brother Games?
On our website you can now play free and new Jorel's Brother Games/Irmao do Jorel Jogos, which is a category of Cartoon Network Games online brought directly from Brazil, which we are positive that you cannot find on many other website, so we are very happy that we get to share them with you, proving once again why it is here that you should be if you want to have fun with online games all the time!
Jorel's Brother Games
Jorel's Brother Games, which also goes by the title of Irmao do Jorel Jogos is the name of yet another category of Cartoon Network Games coming straight from Latin America, this time from Brazil, which is a country which apparently has made quite a lot of interesting animated shows, many of them being aired on Cartoon Network, who seem to love having these unique and original shows made for the audiences from those countries, and we could not be happier for that, because more shows also means more games, and more games also means more fun, but only here, on GamesZap.com, where soon enough we will be able to say that we have the best and largest range of online games based on television shows, as we are not looking only towards English-speaking countries, but to other parts of the world as well, as we want to be a website that is global, and reaches children everywhere, since that is the only way that we are going to stay on top as one of the most fun places on the internet to play online games! The series that these games are based upon has started airing in 2014, and since then it had three seasons, which proves that the show is a popular ones, which tells us that there is going to be a lot of interest in our Jorel's Brother Games, and these games are going to be played lots of times. One thing that we really hope for this series is that not only children who come from Portugese-speaking countries are going to visit this page and play these games, as we hope that children from other parts of the world are going to give them a try, because the language barrier is not that hard at all, and when it comes to online games, you can easily play them no matter what language they are, as the langauge of games is always fun! Well, in order to achieve this goal, we are going to use this next part of the description to convince you of trying our Jorel's Brother Games out, so we are now going to tell you about the plot of the show, who are the characters in it, and after all that we are also going to tell you about what kinds of games you can expect to play here, and we hope that the combination of all these things is going to convice you that playing the games is a great decision for you to make. An eccentric family is at the forefront of this show, with Jorel being the middle child, who is the most popular guy in town. Well, the story is not necessarily about him, but about his brother, whose name we do not even know, as everyone in town, including his family, only call him Jorel's Brother, which is where the title of the show also comes from. Unlike his brother, he is quite shy, but in spite of that, in the show we seen him trying to affirm himself, get more confident, and become his own person, who is important both to his family and town. Each episode shows some kind of confusing event, seen through the eyes of the brother, who has all sorts of crazy adventures in his quest of becoming a real person. Quite a fascinating and original premise, would you not agree? Well, it certainly is, which is why we believe that this show has become as popular as it is, and we are sure that as time goes by, it is going to be even more popular. As for Jorel's Brother Games, there is only one available at the moment, an action game similar to classic arcade fighting games, where you are going to control a character with whom you have to beat all of the opponents that stand in your path. We hope that you are going to give it a chance right away! Of course, whenever any new online Jorel's Brother Games are going to show up, you can be sure that our administrative team is going to be locked and ready, so that as quickly as possible we are going to share it with you, and certainly you are going to be able to play the games at once! Well, that was everything that we wanted you to know about this category of Irmao do Jorel Jogos, so the only thing left for you to do right now is to start playing the games, having fun, and maybe even share these games with your friends, whom you should definitely invite over to our website. Do not forget that plenty of other brilliant games can be found and played for free on our website, by the thousands, so check them out as well!