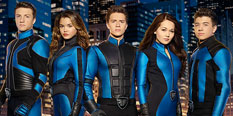 Lab Rats Games
🤔 What are Lab Rats Games?
Everyone of you, whether you are a boy or girl, should check out the Lab Rats Games, Lab Rats Bionic Island Games, or Lab Rats Elite Force Games on our website, as we guarantee you that you can have a really great time playing them all! Action games, 3d games, adventure games, or memory games, whatever kind of game you choose to play from the Lab Rats Games category, we are sure you will love it!
Lab Rats Games
One of the newest categories of games that we have created for all of you is the Lab Rats Games category, which is the latest category of Disney XD Games that we are glad to offer you, knowing that many of you are really going to enjoy these new games. Lab Rats is a show for teenage boys that has been airing on Disney XD for four seasons already, with the fourth one airing from 2015 to 2016, a fourth season which has been rebranded into Lab Rats: Elite Force. Unfortunately, the show has ened with that season, but we think that it had a really good run, and that we have seen a lot of greate episodes with these characters. All that there is left for you fans now is to play Lab Rats Games, and we guarantee you that on GamesZap.com you are going to be albe to find only the best games based on this great show. We have regular games, and Lab Rats Bionic Island Games as well, or Lab Rats Elite Force Games, making sure that the category is diverse, and that fans are going to be satisfied with the content offered on this page. Of course, we are aware that some of you who are now on the Lab Rats Games page did not come here on purpose, but maybe stumbled upon it, and you are now curious about the games. Well, don't worry, because this description is going to be able to offer you all the information you need about the show, but also about the wonderful games that you will be able to enjoy on this page. Let's get into it then, shall we? The series follows the life of regular teenage boy Leo Dooley, whoose normal life changes 180 degrees once his mother marries billionaire inventor Donald Davenport, and with whom they move in with. What Leo discovers there is his three step sibilings, who are not as normal as they seem to be. That is because they have an underground facility where they conduct operations, because they have bionic powers, which they use in missions to save the world. Leo is the only one with no powers in the beginning, so he has to keep up with his sibilings, who accept him and integrate him in their life immediately. The teenagers need to handle both their regular life as teenagers, all the while dealing with their bionic powers. In Lab Rats: Bionic Island, Donald opens an bionic academy on an island, where he trains a new generation of bionic soldiers in order to become the world's new bionic heroes. In Lab Rats: Elite Force, the bionic soldiers joins the mighty med team in order to form an elice force of fighters. The Lab Rats Games are going to range from 3d games, action games, adventure games, to memory games or puzzle game, so rest assured that you are going to find a lot of fun games to play, and you won't get bored for even one second! Since that is all there is to be said about the Lab Rats Games category, we invite you to start playing the games right now, and let the fun begin!