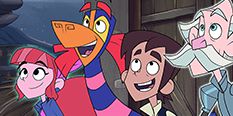 Legend Quest Games
🤔 What are Legend Quest Games?
Legend Quest Games, or Las Leyendas Games, is a brand new category we have created, which is based on a brand new Netflix animated series which we definitely recommend, just like we recommend trying out these Legend Quest Games, since we know from playing them that they are really worth your time, so go ahead!
Legend Quest Games
Legend Quest Games is yet another category of games that you can find only here, on GamesZap.com, where we are constantly updating our website with one awesome and new category after the other, and we are really proud of that, because that means that our website is constantly getting better and better, and that is something that we want for it, as we want you to be able to find this place a great place to come every day and play the newest games on the internet. Recently, like you may have noticed, we have started adding categories based on shows that not that many children might have discovered yet, and the reason for that is because these animated shows are being streamed on streaming platforms instead of airing on television, and that is the case with the series that is the bases for the Legend Quest Games category, which is also called Legend Quest, or Las Leyendas, which is the original title in Spanish, since it is produced in Latin America, so if you also search for Las Leyendas Games, you will get here as well, where is the only place where you can currently find and play these awesome games! This new show premiered in February of 2017 on Netflix, which is without a doubt the best streaming platform available at the moment, and almost all of the time, their shows are of great quality, which is what we have seen in their animated shows as well, since they have quite a lot. It is not surprising, since parents can let their children watch all sorts of shows on the platform, and older kids are probably already good enough with computers and technology to acces it themselves, so we think that there is an audience there who has watched the show, and who wants to play Legend Quest Games, which we are happily providing to everyone on our website, for free, of course! For the rest of you, who have never seen the show before, we can guarantee you all that you should not worry at all because of that, since you can easily play these online Legend Quest Games even without having watched a single episode of the show, since their formats do not require that knowledge of you in order to have a chance of winning the game, since they are more skill and thinking oriented games. Of course, if you are now curious after praising the series so much, you can keep on reading this next part of the description as well, because in these following lines we are going to tell you what the show is about, and when we are done with that, we are also going to tell you what kinds of Legend Quest Games you will be able to find and play on this page, which we are sure you are eager to know as well! The show follows the main character, a gifted boy named Leo, who is a teen with the ability to talk with otherworldy spirits, and his group of friends made out of Teodora, who comes from the future, as the show is set in the 19th century, Don Andres, who is a spirit and a conquistador, who used to be a barber, and finally, Alebrije, a creature who takes on all sorts of forms, but has a specific color scheme, and it looks different to everyone. Well, Leo has been cast off from his village when his town in Mexico is attacked by spirits and creatures, and so the gang goes travelling around the world in order to recruit allies, and together to fight the evil overlord who wants to eradicate makind from history. Doesn't it sound like a really interesting story? Well, we certainly belive so, which is why we were really happy to have found some online Legend Quest Games to offer you, even though at this point there is only one game, which is a jigsaw puzzle game, but we are sure that in the future more puzzle games are going to follow, along with all sorts of other formats, and this category is going to become even more interesting. Now, if you have read everything we have written so far, and you were not sure if you wanted to play Las Leyendas Juegos on our website, we really hope that after reaching this point, you are now convinced that you should play the games, and you will see that you will have a really great time doing so. That was all that we had to tell you regarding the Legend Quest Games on our website, so we now want to invite each and every one of you to start playing the games, and start having the best time ever, with the best games ever, only here!