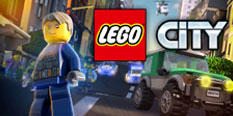 Lego City Games
💡 Play similar online games!
🤔 What are Lego City Games?
You can now become one of your favorite heroes from Lego City, since you get to play our online games and help out to ensure that the city runs well, is protected, and everyone can have fun!
📂 Related Categories

Lego
Lego City Games
Lego is currently one of the biggest toy franchises in the world, and a leader in the world of entertainment for children, which is why when it comes to Lego Games online, there is quite a big variety. While we do have a category dedicated to all games, there are various themes and sub-franchisee that deserve their own place on our website, especially because we want the fans of them to be able to find them more easily.

One of the best categories of games is this one, the Lego City Games, based on the theme with the same name, which is one of the original three themes that launched this category, along with Castle and Space. A theme would mean a brand that would contain all the blocks and figurines that are thematically connected with one another, such as it is the case of this one, which is all about city life and the people living in it, as well as the buildings of a city.

While the theme is one of the first ones, and it came first, this category is more dedicated to the different games that have appeared over the years and have been inspired by this theme and set in that world. Not only that but there have been television shows made for it as well, with the latest one being Nickelodeon's City Adventures. Of course, we are happy to announce that we have all the best Lego City Adventures Games, so you are in the best place for them!
Of course, you probably know what Legos are, right? If you don't, just let us tell you that they are bricks in different colors and shapes that can be connected with one another and which kids can use to build structures. They either construct something given in a set, doing it in that manner, or they can use their imagination and combine the bricks however they want to, creating something entirely new.

Just like in real life, before there were cities, there were towns, which is why the precursor of this franchise was called Lego Town, which featured sets that resemble those of towns, so they were not as vast and big. At first, the vehicles that were available would not fit with the mini-figures of their drivers, but around the 1980's changed, which is one of the main factors in the creation of Lego City, because those vehicles would be useless without someone in them.

Among the many things that these sets wanted to depict for kids were the different people living and working in the city, especially the people who are working to keep the city clean, healthy, sustainable, and safe. That is why in these sets you can build facilities for the police or the fire department, complete with their specific cars, you can create an airport, so people can come in and out.
Other characters include Harl Hubbs, a passionate handyman, Solomon Fleck, the mayor always dedicated to his people, people from business, commerce, and other facets of the city that give it life day after day. The episodes of the show focus on different characters, showing us how they do their tasks, and it is always in a fun and funny manner so that the kids watching learn and are entertained at the same time!