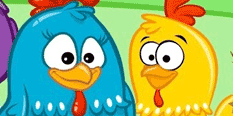 Lottie Dottie Chicken Games
🤔 What are Lottie Dottie Chicken Games?
The Little Dottie Chicken Games on our website are very fun games aimed at children, where they can have time and also learn and get better at things like coloring for example, at the same time. Even if you are not familiar with the show the category is based, we highly recommend you start playing Little Dottie Chicken Games, or else you will miss out on a lot of fun!
Lottie Dottie Chicken Games
Well, this new category that we have created for our website, the Lottie Dottie Chicken Games category, is a very special one which we hope that will provide entertainment and joy to millions of children all over the world. Why? Because the animated clips that the category already do that on Youtube, and we hope that playing games with these characters can also produce the same result, which is why we are very thrilled to present to you the Lottie Dottie Chicken Games category. The Lottie Dottie Chicken Games is special and very different from most of the other categories on our website, and that is because of multiple reasons we are going to give you right here. The most important one is that Lottie Dottie Chicken is not a show which airs on a major network in any country, but instead is shown on Youtube. The creators of the clips put up the first clip on youtube, with the original title in portugese, Galinha Pintadinha, as the show comes from Brasil, and while they were rejected by networks, the clips were picked up by many moms and parents in the country, so in little time, Galinha Pintadinha became a nation-wide hit. In these youtube clips, many cute chickens sing folk and traiditional songs and nursery rhymes, with a very cute presentation, making the children sing, dance, and have a lot of fun by watching them. After the show took off in Brasil, the creators also adapted the show in other languages, like spanish or english. Why? Well, because children will enjoy songs from their countries and in their native language a lot more, just like parents do, because it brings back fond memories of their childhood. The Youtube channel for Lottie Dottie Chicken has already passed the 1 billion views mark, and we are sure that as the years go by, the show will turn out to be even more popular. We hope that the addition of the Lottie Dottie Chicken Games category on our website will also help to that, and that it will also help the visitors on our website find and play some of the most interesting games out there. Just like with the show, the Lottie Dottie Chicken Games on our website are also educational and fun at the same time, and aimed at small children especially, so you are going to be able to find fun coloring games here, puzzle games, or even memory games. By playing them, children will develop their artistic sense, their logic or their memory, things which are very helpful. Of course, these are just the Lottie Dottie Chicken Games we know of now, at the moment we are writing this description, but we expect many other wonderful games based on this propriety to appear on our website in the future. So, with all these things said, we hope that the next thing you are going to do will be to start playing Lottie Dottie Chicken Games on our website right now, and have a great time with some of the most cute and interesting chicken on the internet!