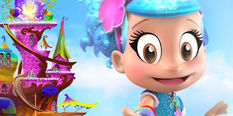 Luna Petunia Games
🤔 What are Luna Petunia Games?
In the Luna Petunia Games category you will be transported into a magical new world full of interesting characters and fun things to do, together with Luna, a young girl who was taken into this world. Try out all our Luna Petunia Games right now, and see this world for yourself!
Luna Petunia Games
We are very happy and excited for the Luna Petunia Games category here on GamesZap.com, because we are certain that this new show that Netflix is planning on releasing in 2016 will be one of the most fun and lovely series on the internet, which will prompt many children to search the web for Luna Petunia Games, and they will see that GamesZap.com will be the site with the most Luna Petunia Games to offer them, and we are also pretty sure that after they play the games, they will want to play even more Luna Petunia Games, as that is how fun this series of games can be. One of the reasons that we are so excited for the series is the fact that it is made by Cirque du Soleil, a performance art troupe which goes around the world and does the most interesting shows ever, in association with Saban, so the series will have great animation, and the spirit and world will be heavily inspired by the theatrics and immersing worlds that Cirque du Soleil creates. Well, we think that we already got you very interested, and that you will now want to find out even more things about the Luna Petunia Games category and about the show it is based on, which is what we will continue the description with, so we proudly invite you to keep reading it until the end, get accustomed with the Luna Petunia Games category, and then start playing the delightful Luna Petunia Games on our website! Luna, on the day of her birthday, is given a strange box containing some toys inside of it, and with a special phrase written on it. Once luna reads the words on the box, she is transported to the world of Amazia, where the toys come to life, and they join Luna in countless adventures through this magical land. Luna will be trying new things, meeting new and unique characters, and live each day by doing all sorts of interesting things, and making the most out of her life, as all children should. The toys in the box are very unique and interesting, being animal toys but with interesting features like the being both a koala and a kangoroo at the same time, and having springs for legs. These characters and many more will also be heavily featured in the Luna Petunia Games, where we plan to add as many games as we can find on the internet. We are sure that the number of Luna Petunia Games will grow once the show starts streaming, and who knows, maybe our team will try and make some original Luna Petunia Games to offer you, because we are always ready to expand our database of games. Now, what are you waiting for? Don't you want to join Luna in her amazing new world of magic, and have a great time? Do that right now by playing Luna Petunia Games, and when you are done with these games, you can always try all the other wonderful games which our site offers you!