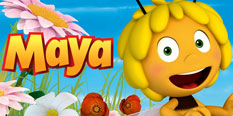 Maya the Bee Games
🤔 What are Maya the Bee Games?
You are now all welcomed to the page of Maya the Bee Games, which is a brand new and awesome category of games with which we are sure you are about to have a wonderful time playing all sorts of great games, which is what we hope happens with all of our categories, proving that our website is the best for online games for free!
Maya the Bee Games
Maya the Bee Games is one of the best new categories of games we are very happy to have created for our website, which, as you can clearly see, is expanding every day, with us bringing you cool new games to play all of the time, and to make that true we make sure to create interesting new categories, which is what we have done right now as well with the Maya the Bee Games category, which is a category we honestly wish we have had created earlier, but it is better late than never, that is what we believe, so we really could not miss the chance of offering you all these amazing games, which we guess are going to be very well appreciated. We have seen that this franchise based around this awesome character has been really popular lately, with lots of animated series being created, as well as a brand new animated film being currently in theaters all over the world, so we believe that this is a great time for us to bring you online Maya the Bee Games, which wea re sure will be of great interest to many of you. If you are already fans of this character, no matter from which media, then you have come to this page precisely for that reason, and want to waste no time at all, but start playing our Maya the Bee Games online immediately. Well, we are not holding you back, but inviting you to do so at once! For the rest of you, who maybe have come to this page without knowing anything about this character, her world, and about these games, and might want to know more before you start playing the games on this page, then reading this description in its entirety is what you need to do, since from it you will learn what the show is about, details about its main characters, and of course, we will end by telling you what kinds of online games you will be able to play for free on this page! Well, the first thing that you need to know is that this character originated in children's stories from Germany, way back in 1912, and ever since then there have been comic books created after the character, multiple television series, and even two full-length feature movies, which have been quite well received by audiences all over the world. If you are not familiar with this world, let us use this next part of the description to tell you the premise of the show that the games on this page have been based upon. The show follows a young Bee named Maya, who has left her hive of bees in order to explore the world all around her, a really big one for that matter, and discover the many mysteries of nature. Exploring the world around her, she encounters different other insects, with which she becomes friends or enemies, plays all sorts of games and does activities, and is always looking to find the good even in a bad situation. It is really interesting, and children who watch this show do not only get entertained by the on-screen adventures they see, but they also learn all sorts of valuable lessons, which we think is important for all shows aimed primarily at children. Now that this has been gotten out of the way, it is time for us to tell you what kinds of Maya the Bee Games you will be able to play for free on this page. You will be able to find puzzle games, coloring games, flying games, skill games, and even bycicle games, as we believe the category is quite diverse, even though it has not a really big number of games available in it. No matter what your tastes in online games are, we are positive you will find something to your liking. Well, we really hope that everything that we have written so far has gotten you interested in checking out these games, even if that had not been the case when you started reading this description. If that is the case, we hope we have accomplished the goal this description had. Remember that maybe your friends have no idea about this show and about these games, or they do not know of a place to find and play free online Maya the Bee Games, so make sure to invite them over to Friv Games Today. Not only will they find these brilliant games, but they and you as well can then check out the thousands of other amazing games we have available for everyone, all being able to be played for free, and all games with which we have had fun, so the chances you will too are very, very high!