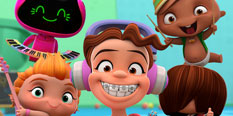 Mini Beat Power Rockers Games
🤔 What are Mini Beat Power Rockers Games?
Join us all in playing the best online Mini Beat Power Rockers Games on the internet, games that you can't find in many other places, so giving them a chance right now is a must, since you will not regret playing them for anything in the world, trust us!
Mini Beat Power Rockers Games
New and interesting categories are being added on our website all the time, and that is the reason why right at this moment you all find yourselves on the Mini Beat Power Rockers Games page, which is a category of games based on a show consisting of short animation episodes which are not airing all over the world at the moment, but will surely be everywhere very soon, and because of that reason we are very happy to say that Friv Games Today has been the first website out of this world that has created this page and brought games in it, proving again why this is the best place for kids everywhere to come and find amazing games to play. No matter where you are from, here you can find games that you like, and there are a lot of games that you can't find on other websites, as we are very proud in the diversity of our content. Now, we are sure that if you have seen this show on television you were very curious to know where you could find games with Mini Beat Power Rockers to play for free, and we are very happy that we can now provide you with such a place, as we know for a fact that the category has not been added in other places. Now, from this following part of the article we are going to provide you with more details regarding the show, since we are positive that many of you are not that familiar with it, and at the same time, you would love to know more about the show and its characters before you start playing friv Mini Beat Power Rockers Games, something we can understand. We will proceed with that right now after which we will also give you more details on the kinds of games you will be able to find and play here for free, which will surely make you very interested as well. As you may have realized from the title or the images of the category or games, this is a show focused on music, something that is not at all unique in the world of kid's programming, since children really love music, so they also love to see animated characters play music or sing all the time. A great thing for music lovers is that this show features lots of original songs to be learned and sung by kids everywhere, making the experience interactive at a lot of times. Four bouncing babies are at the center of the story, with one of them being a baby robot, making things even more interesting, don't you think? The four are called Fuz, Wat, Myo, and Carlos, and they have a common dream, which is to make their band one of the most popular ones in the entire world! Each day, while their parents are at work, the kids are left at the daycare, where they have immense fun playing music, singing, and creating songs while having all sorts of fun and bonding activities together. With a premise as interesting as this, and great animation, character designs, and interesting songs, we are positive this show will take over the globe soon enough, and you will be here from the start, by having fun and interacting with the characters directly! Of course, as you might have expected from such a category, you will find music games, but you will also be able to find games that help the children that play them improve their skills in all sorts of areas, so think of puzzle games, memory games, puzzle games, or coloring games, and we have no doubt at all that everyone trying out any game from this page is going to have a blast and a time they will not forget any day soon. Of course, Mini Beat Power Rockers Games is just one of the hundreds of friv categories we currently have here, so when you reach the point where you will have played all the games from this page, nothing should be holding you back from checking out what other kinds of games you can find here, all of which we have no doubt at all you are going to love also. Now, don't waste time, start having fun with these games right away, and don't stop here, since we hope you invite friends over here to play these friv games as well, all free of charge!