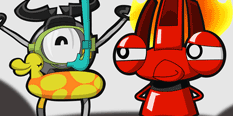 Mixels Games
🤔 What are Mixels Games?
The Mixels Games category is one of the most interesting Cartoon Network Games category on our website, and we know you are going to enjoy playing all the games here. Play with Infernites, Cragsters, Electroids or other tribes in the Mixels world, and you are never going to get bored, not by any of the Mixels Games here!
Mixels Games
A very special category that we have on our website is with no doubt the Mixels Games category, a category which we have created knowing that many of you are going to really love playing the games from this page, as the Mixels are some of the most popular characters that Cartoon Network has. What are the Mixels? What kind of Mixels Games can you play? Why is this also a Lego Games category? Well, the answers to all these questions and many more you are going to find from this description, which we hope that you will read in order to get familiar with the series and with it's very fun Cartoon Network Games. Mixels is a series created by Cartoon Network, together with The Lego Group, which is the reason why this is also a Lego Games category. The Mixels are creatures which are made from parts that can link up and form all sorts of interesting things, similiar to lego pieces. In the world of the show, the Mixels live in a land of adventure full of interesting things. They are all divided into tribes, with each tribe having it's own colour scheme. A fun thing about the mixels is that they combine with each other. They can mix, which is when two mixels combine, they max when three mixels of the same tribe combine, and the last process is murping, which is a combination goes wrong. There are not only Mixels in this world, as their enemies are the Nixels, ruled by King Nixel. Now, let's talk about the tribes in the show, which you are also going to find while playing Mixels Games on our website. We have the Infernites, who are red, are based on fire, and live in the Magma Wastelands. Cragsters are based on rock, and they live in the mines they dug themselves, and their colour is grey. Then we have the Electroids, which are based on electricity, are yellow, and they live in Mountain City. These are just the three main tribes from the first season, as in following seasons you can meet Mixels tribes like the Frosticons, the Fang Gang, Flexers, Glorp Corp and many others. The fun thing about the Mixels Games on our website is that most of them are games that focus on each individual tribe in each game, and you have to do tasks based on their attributes, the place they live, and other things like that. By playing with them, you can learn many more things about each kind of Mixels. We are sure that you won't have any problems playing them, and you're going to enjoy them very much! Remember to always visit GamesZap.com when you are looking for new Mixels Games, but also Cartoon Network Games or Lego Games, as our website is the best one to find these games on. The last thing that we can do is wish you good luck at playing the Mixels Games on this page, and invite you not to leave GamesZap.com, but browse the website and find other fun games.