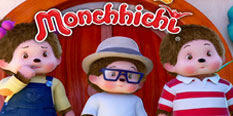 Monchhichi Games
🤔 What are Monchhichi Games?
Only on our website you can now find and play the best Monchhichi Games online on the internet, a category unlike you see every day, so we hope that you give the games a chance right now and see why they're awesome!
Monchhichi Games
A brand new category of games that we are very happy to have created right now for our website is the one on the page of which you are right now, a category by the name of Monchhichi Games, where you are about to have fun unlike you have ever done here before, and precisely for that reason we knew that creating this category for our website was important, and even more so after we have seen that there are no other websites out there who currently offer these games for their visitors to enjoy, so if there are fans of the show or dolls all over the world, and we know there are plenty, and they would want to play some games with Monchhichi, they were not able to do it. Well, the past tense is important here, since they now have a place to do that, our website, where fun never stops, and we are always striving for the best! Like many great series of online games before it, this one has also started as a toy line, one that has been around for decades now, and while it is mostly known through Asian countries, it is popular in most other places in the world as well, so even if you have never seen an episode of the show, you might still be able to recognize these characters through their dolls. There has been an older animated show for the franchise, one that ran in the eighties, but a new CGI one was recently created and started airing all over the place, and it is based on that one that we can now offer you Monchhichi Tribe Games online to play, that being how the show is also called. Of course, we assume that most of you are here because you already know the show and love the characters, only wanting to interact with them more through play, but in case you are not actually familiar with this world, and want to know more about it, read this article to the end, from which you learn what the show is about, get details on some of the main characters, and you the find out what kinds of Monchhichi Games friv you will all be able to find and play here for free, something you are surely going to be very interested in! The episodes of the show all have eleven minutes in length, and they delve into the world of the Monchhichi creatures, as they create and protect the dreams of children, which is what their purpose in life is. They live inside the Dream Tree, and every episode sees some kind of villain trying to disrupt the peace, or the monkeys themselves having made a mistake, and the day needs to be saved every time through friendship and teamwork. The show teaches children these valuable lessons, and they always prevail in finding a solution thanks to their abilities and cooperation. Characters in the show include the shocked trio, made up of Hanae, Willow, and Kauri, who are usually at the center of each adventure that the episodes present. Now, because we have made you more familiar with the world of this show, why don't we do the same right now as well about the world of the friv games they have inspired, and we have no doubt at all that reading about them will make you want to enjoy the games a great deal right away! Because the animated show is still in its early days, there are not that many games you can currently find on this page, but you can be sure that when new such games appear on the internet that features this show and its characters, the first place you are going to find and enjoy them is going to be here. Until new games appear, though, enjoy the puzzle games and memory games we have brought you here, and we're highly positive that great time with them awaits you all. Now, we've really told you everything we wanted you to know about the series and this page, so we hope that right now you're going to be giving the games a chance and enjoy them, and we hope you don't stop here either, since we have thousands of amazing games currently available for you to enjoy, and we have no doubt at all that you're going to love any game you pick to play from here, since they are all a fantastic time to be had!