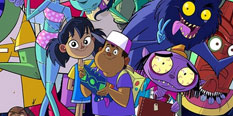 Monster Beach Games
💡 Play similar online games!
🤔 What are Monster Beach Games?
Play Monster Beach Games from Cartoon Network and GamesZap and have fun surfing with Dean and Jan and their new monster friends from Iki-Iki.
📂 Related Categories

Cartoon Network
Monster Beach Games
We will always have for you the best new Cartoon Network Games categories on the internet since we know that this is one of the most important television channels for kids and teens in the world, and their shows are constantly some of the best, really entertaining, and the production quality is always to the highest standards!
Monster Beach Games is a category based around the show with the same name that has recently started on the channel, but which has been in production for a long time, and it even had a TV movie air on the network a few years back, so it's obvious the network trusts the show, and as far as we've seen of it, it's awesome.
If you don't know anything about it or its characters, we invite you to read the continuation of this article, where not only do you get to know them better, as well as their crazy world, but you will also learn more about the free Monster Beach Games you can play on this website!
Meet the surfer gang from Monster Beach:
Jan and Dean are siblings, and unlike most brothers and sisters, these two have lots of common, especially their shared passion for surfing, something that both of them really love doing as often as the occasion arises.
Of course, this meant that they were very excited when they learned that they would spend their summers with their laid-back uncle on the island called Iki-Iki, but once arriving there, they had some surprises, that's for sure.
While their uncle is human, and there are plenty of humans there, the island is mostly known as a secret location for monsters from all over the world to come, most of them also coming there for the waves, since monsters can surf too!
Now that they are on the island, they will try their best to spend their summer having fantastic adventures, meeting lots of new monsters who will become their friends, but some of them become their enemies, and they are going to catch the waves as often as they can!
Dean wants to be the best surfer in the world, just like his idols, but he is only good at wipe-outs at the start of the series, oh, and annoying his sister. Jan was not as happy about the monster aspect of the island as her brother, but she still makes the most of it with surfing!
What are the Monster Beach Games online available on GamesZap?
Well, this animated series is just at its infancy stage, so it has lots more room to develop and grow bigger, so at the moment we can tell you about the Monster Beach Surf's Up, which focuses exactly on the most important aspect of the show, and the most beloved one, which is surfing.
Choose the character you want to ride the waves with, and then give it your best to jump the waves without falling and crashing, while also collecting stuff and getting lots of points!
Start your monster surfing adventure right now, what are you waiting for?