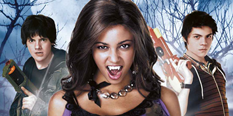 My Babysitter's a Vampire Games
🤔 What are My Babysitter's a Vampire Games?
Come and play the latest games with vampires, humans and witchers that have a great show on Disney Channel and Disney XD! If you want to find out the true story of Sarah Fox just read some informations from this page.
My Babysitter's a Vampire Games
Many of you are watching shows that are broadcast by Disney XD and Disney Channels too that's why on GamesZap.com we will try our best to come with the newest shows categories that are broadcasted. But, today we have a new category game for us but from a show that was broadcast in 2011 - 2012, a show that is called My Babysitter's a Vampire! Many of you knows that show because there is where you first saw a vampire that is so friendly with everyone! Because we know that you like vampire games we adding a new category, My Babysitter's a Vampire Games where you will find the latest and the best games with Sarah, Ethan, Benny, Rory and beautiful Erica. This show was released on March 2011 on Teletoon, Disney Channel and now on Disney XD and it's created by those who manage to create the best comedies shows from Disney like Total Drama. The whole show is about some overprotecting parents that hire an babysitter for a litter girl, but that babysitter it seems that is not a real woman, not a girl, it's a real vampire, so from this phase the show will continue with some good and funny moments between mans and vampires. We have 3 seasons where our main characters Sarah, Benny, Erica, Rory and Ethan will try to get along well and live together. If you are a player from GamesZap.com you know that on every categories where we have some characters we will have a short brief from our perspective for that you know with whom you play in our games. We will try ongoing to make some nice games like difference, puzzle, memory, bejeweled, adventure and other games for our players. If you are a gril or a boy too you like pretty much the main character, the babysister girl that's named Sarah, Sarah Fox. She is the babysister of Ethan, the older brother of Jane. She is a vampire for a long time and in this series you will see that Ethan It was to be a vampire too but Sarah sucked his venom and saved him. From when she's ex boyfriend bite her neck and transformed Sarah into a vampire she remained fledgling and she refuse to drink blood, thats until the Revamped episode where she save Ethan from turning into a vampire and there is the moment when she turneed into a real vampire. She have some stunning abilities like Superhuman Speed, strenght, healing, hearing, smeling agility, reflexes and she is so good at fighting and flying. On My Babysitter's a Vampire Games category you will find a lot of games that are just perfect for your kids because in that games they will have a lot of fun and learn different things or improve some abilites like skill. The next character from My Babysitter's a Vampire is Ethan Morgen that's a true geeky and sci-fi loving who is best friend with Benny. He is the boy that needed a babysister and the boy that is on the brink of becoming a real vampire. In the season 2 Sarah and him date some times so he manage to go from babysistering to dating in 2 years! We will have lots of games with him, so stay tunned! Benny Weir is a good friend of Ethan that was born with some really nice abilites and powers like casting spells and use magic. This show is very interesting, here we have humans, vampires and whiches too, we have Benny who can use magic! We have many interesting eveniments that take place in 3 years until all from the show become humans. Rory Keaner is the other friend of Ethan that is in the second year at Whitechapel Gihg. He is not so smart so until season 2 he just think that all his friends are just normal, no vampires, no magic, nothing, all normal. Our last main character from My Babysitter's a Vampire Games is Erica Jonees, Sarah's best friend forever! In the film she became a true vampire but in the show she is not a vampire till season 3. If you think that Erica was a popular girl in the normal life, you're wrong because she was so shy and socially awkward but when she became a vampire all thise changed. Our staff preapared some good games for you so come and play the latest My Babysitter's a Vampire Games that you will find in this category or in Disney categories. Play My Babysitter's a Vampire Games and don't forget to came back for more friv fun!