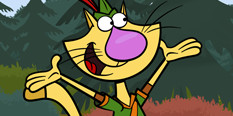 Nature Cat Games
🤔 What are Nature Cat Games?
Nature Cat Games is one really awesome category of games we have added on our website, and we are sure that you are going to have lots of fun with each game in it. The only way to know if that is true is if you start playing the Nature Cat Games right now, so get on with it, and see for yourself!
📂 Related Categories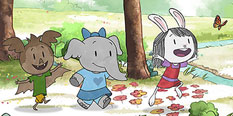 Elinor Wonders Why
Nature Cat Games
On GamesZap.com, we have recently created a lot of new categories of games based upon shows from PBS Kids, a television network for children with cartoons that we believe is really awesome, and has so many wonderful shows, shows that we know a lot of children who watch them love them a lot. We also know that those same children love to play games with their favorite characters, so we knew that we had to add them on our website, where we want to make sure there are games to play for everyone. The latest category like this that we have just created on our website is the Nature Cat Games category, which is based upon the show called Nature Cat, obviously, which is a very entertaining and also educational show at the same time, that has captured audience's attentions, and has become really popular even since it's premiere episode. That is not a hunch, but a fact, proved by the announcement made in October of 2016 that the series was renewed for two more seasons, which means that we are going to have these characters around for quite some time, something we are very glad for, as we are sure you are as well. It also means that there are going to be new Nature Cat Games added on our website for years to come, so creating this category was really a great decision for us to make, and we will always stand by it and by the games in this category. Are you a fan of this amazing show already? Well, then what are you waiting for? You know the plot, you know the characters, you have seen many, many episodes from it, so the only thing that is left for you to do right now is to get inside the world of your characters, by playing the amazingly fun Nature Cat Games on our website, all of them free, and all of them entertaining! Are you not a fan of the show? You don't know many things about it? Well, then, you needn't worry, because the main purpose of descriptions on our website, especially for categories, is to be informative, which is why if you keep reading this description up until the end, you are going to catch up to the plot of the show, the characters, and you will also get to learn about what kind of Nature Cat Games you can play on our website, and we are sure you are going to become intrigued by all you will read here, and you will start playing the games immediately! We are going to start right now with all of that, so make sure you pay attention! The show follows the adventures of four main characters, named as follows: Nature Cat, Hal the Dog, Daisy the Bunny and Squeeks the Mouse. The main character, like you have probably realized from the title of the show, is obviously Nature Cat. His real name is Fred, and Fred is a house cat, who has dreams of exploring nature, but only does that once his family leaves the house. That is when he transforms into Nature Cat, and goes exploring. As amazing as all that sounds, there is one problem though: he doesn't really have good instincts for exploring nature. No problem! The show shows us that Nature Cat can learn about nature, and teaches children that it is good to be curious and explore nature, and it also teaches them how to do it, through the eyes of Nature Cat, who is also learning at the same time with the children. Really interesting, right? Well, we thought so as well, which is why we knew that a category of Nature Cat Games had to be created, especially after we have seen what amazing games we can provide you in it. What kind of games? Well, obviously, as is the theme of the show, the games also see nature exploring as the central aspect, only you do it directly, by interacting with nature and the characters in doing all sorts of fun things, one after the other. Oh, we also have puzzle games as well, so check them out too, in order to become a faster thinker. We think that all of the Nature Cat Games on our website are awesome, so you should start checking them out right now, as there is nothing more for you to do other than this next up. When you are done, you can discover a lot of other awesome categories here as well. Remember to always check our website regularly, because you don't know when new Nature Cat Games might be added, and we are sure that you want to be there to play them first. Good luck, and have a lot of fun everyone!