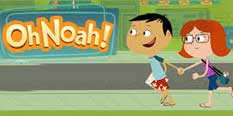 Oh Noah Games
🤔 What are Oh Noah Games?
On www.GamesZap.com you can now find the best and most awesome Oh Noah Games on the internet, one game being more fun and more educational than the other, so give them a chance right now! What are you waiting for, then? Start playing Oh Noah Games on our website right now, and you will not regret it at all!
Oh Noah Games
Oh Noah Games is yet another excellent category of games based on a show from PBS Kids that we want to offer all of our visitors today on our website, since we have no doubt at all that you are going to have a tremendous time playing the games from this page, which are all not only really fun to play and enjoy, but also educational at the same time. Trust us when we say that it is an experience to play Oh Noah Games, an experience you do not want to miss out on, since you are guaranteed to have lots of fun playing together with these characters! Recently we have created lots of categories of games based upon shows airing on PBS Kids, one of our new favorite networks, and, as you have probably seen, most of these categories have games that are educational, just like the shows that they are based on are. Well, the thing is, most of the other categories focused on things like math or science, but with Oh Noah Games, we are going to move away from that, into another amazing territory, which is language. In today's society, it is important for children everywhere to learn new languages in addition to that with which they were born, because the world is more connected than ever, and knowing how to speak, read, and write in another language is a skill which comes very in handy. Most of the children all over the world learn English as a second language, since it is the most used language in the entire world. But what do children in the US, who have english as their mother tongue, learn as a second language? Well, most of them learn spanish in school, because South America is their neighboor, and there are a lot of spanish-speaking countries there. Not only that, but there are a lot of immigrants who speak Spanish in the States, and it is used in many places there, so it is important for children there to know that language. Well, what more fun way to learn it than through a cartoon and through online games? Well, Oh Noah is a show on PBS Kids in which Noah, a curious 12-year old boy who lives in the US sometimes visits his grandma in Mexic, as he has mexican roots. Whilst there, every day that he is there, he learns a new word in spanish, and when you watch the episodes, at the end of each one, you will learn this new word together with Noah as well. The characters do all sorts of things and have countless adventures, through which is is made really easy to learn new words. Well, now you can take this learning experience even further by interacting with the characters directly by playing Oh Noah Games, which is going to make learning spanish words even more fun and awesome, and we are pretty positive that you will be satisfied with the experience! Before we get into what kinds of Oh Noah Games you will be able to find and play on this page, we are now going to tell you more about who are the characters in the show, which we are sure you are just going to love, and after reading about them, you will surely want to start playing games with them immediately! Noah is the central character, and he really likes to help people, even if he is not sure what they need help with. In his grandmother's town, where he goes to visit her, no one speaks english, so although he is well-intended, because of misunderstandings, he often gets into all sorts of trouble. No problem, though, since he always gets through, with help from his mouse friend Pequeno, or his relatives and friends like Abuela, Nell, Coco or Brisa. Doesn't it all sound really interesting? As for Oh Noah Games, you can find in this category games like puzzle games, matching games, skill games, racing games, adventure games, and of course, countless of word games, where you learn a lot of words and have all-around fun! Well, with everything that we have written up until this point about this category, we really hope that we have made you interested in it, and that you will thus waste no time at all in starting to play these games, and have a tremendous time, like you can do only on our website! Go through all of these Oh Noah Games, and when you are done with them, remember to also try out other games from our website, as we have plenty of them, one more fun than the other, ensuring that once you come on GamesZap.com, you are able to have unlimited amounts of fun, which is what we hope that you are looking for!