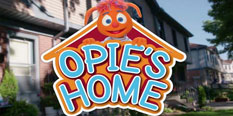 Opies Home Games
🤔 What are Opies Home Games?
Welcome to the Opie's Home Games category, or Hi Opie Games as it is also known, where together with the puppet known as Opie you are going to have all sorts of interactive activities which are going to help you grow as a person and develop your skills in many different areas!
Opies Home Games
One of the best new categories of games that we have just created for everyone on our website is the one on the page of which you find yourself now, the Opie's Home Games category, for which we are very excited, since we are the first website to manage to take these games out of Canada and bring them to audiences worldwide, which is something that was not available before. If you wanted to play Hi Opie Games before, you could only do it if you were in Canada, since this is a show that originates from there, airs in that country, and it is not aired in many other places over the world, at least as we know of. Well, as you know very well, we have always looked towards other places in the world for games, in addition to the US, which is why our website is currently as diverse as it is, and why so many children get to find the games that they love most here. It is also one of the newest categories of games for preschool children we have brought you, which is great, as we are very interested in that segment of children since we have noticed that the games aimed towards them are usually the most fun and interesting. If you are wondering why we are referring to this category as Hi Opie Games as well, the reason for that is because that was the name of the original show, the one that aired from 2014 to 2016, and in 2017 was the year where its spin-off show was released, by the name of Opie's Home. Since this is the name of the show that is currently airing, we thought that it would be best to name it that way, although you can also find the games based upon the older show here as well, so don't worry, we got you covered on all things, Opie! If you are somehow already a fan of the show, even though you are not from Canada, or are from that country and found the games here first, we don't believe that you need an introduction into the world and that you are ready to start having fun with them at once! If that is not the case, though, and you would like to learn more about this world, that will be possible, as right now we invite you all to check out the following part of this article, where we tell you what the show is about, who are the characters from it, and, of course, when we are done with that we will also tell you what kinds of online Opie's Home Games you will be able to find and play here, for free, of course! The show is a live-action one, and it features a character by the name of Opie, who, as you will see, is a puppet. He is the new kid in his kindergarten class, and we follow as he deals with all sorts of new things, and we see his progress in emotions, social skills, and intellectual ability. Each episode of the show presents a new story, and each of the stories focuses on personal growth and encourages children to learn different interesting things by playing. Awesome, right? Now that you are more aware of what the show is about, let's tell you about the Opie's Home Games, which also focus on developing yourself, only they do it even more directly, since in online games you interact with the world yourself, rather than simply watching it. You will go into space with these characters, you are going to be able to play cooking games, you will have interactive story games where you advance the story and learn new things, and all sorts of other fun adventure games, so without a doubt there will not be even a moment of boredom for you with them! That is basically everything that we wanted you all to know regarding this page, so what is left for you now to do is only to start playing the games and having fun! Don't forget that this is only one of many of our categories, so check out others as well, and in no time at all, you will find even more awesome games to have a great time with, and we are sure that you will never regret checking them out! Oh, and make sure not to keep the games to yourselves, but invite your friends over as well, because the more, the merrier!