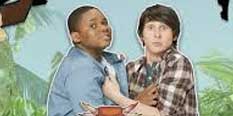 Pair of Kings Games
🤔 What are Pair of Kings Games?
We are very happy that on our website you can now find a category such as Pair of Kings Games, which is one of the newest Disney XD Games categories we have created, which we have no doubt at all is going to bring joy to countless of children all over the world!
Pair of Kings Games
Welcome everyone to the Pair of Kings Games category on GamesZap.com, which is a brand new category of Disney XD Games, which are categories that we have kept on adding in the past few weeks, since we want to have as many games as possible that are based on shows running on this network, with the reason for that being because we have always enjoyed the games based on these shows, and not only that, but we have seen that so many of our visitors do as well, so we want to be able to keep on bringing people games that they enjoy. Because the shows that are currently airing on this network already have categories created for them, we thought we would bring you games based on some of the older shows, which is how we created the Pair of Kings Games category, since this is a show that aired from 2010 to 2013, and it is not that much on the air these days. Still, it is still available in many places in the online world, and not only that, but it is still airing in different places of the world, so we are sure that there are still people discovering it. Of course, you do not really need to know anything about the show in order to play Pair of Kings Games and still enjoy them, something which we have already tested, so you can trust us when we say it. It was a very special show, with a premise that was different and fresh, and the games that have been created after it in those three years still hold up, so we are sure that we are going to make a lot of people happy with this page. If by any chance you belong to the group of people that likes to know what the show that the games they are playing is all about, then we certainly invite you to read the next part of the description, from where you are going to find about the premise of the show and it's characters, after which we are also going to tell you everything about the Pair of Kings Games you will find available on the page, since we know that the reason you come here is to play awesome online games. Brady and Boomer are teenage fraternal twins, who are raised in Chicago by their aunt and uncle. One day, Mason, the royal advisor to the throne of the island of Kinkow arrives at their school and tells us that they are the heirs to the throne. That is the case because their mother was an archeologist who married the king of the island, but during a war, both of them were killed. So, because of this, they both move to the island, where they are put in charge of it and it's people, and they have to rule together because no one knows who the older brother is. During the episodes of the show, we see the two boys trying their best to rule the island, meet the people in it, and encountering all of the really different and bizzare customs that these people have. While it might sound tempting to find yourself being the ruler of an entire island, things are not as simple as they seem, with the two boys getting into all sorts of troublesome situations, from where the comedy of the show comes from. Well, with a premise such as this one we would have loved it for the show to continue on for even more years, but it was great that we still got at least four great seasons. Now, we have told you all you needed to know about the show, so we are going to continue detailing the Pair of Kings Games available on this page, and hopefully this will determine you to play them, if you are not yet decided. You are going to be able to find all sorts of adventure games, skill games, action games, sport games, strategy games, and so forth, with even hidden numbers games being found here, so this category is really diverse, so that no visitor of it will be able to say they did not find something great to play. With this, everything that we had to say about the Pair of Kings Games has been said, so the only thing we can tell you now is to invite you to start these games right away, because only by playing them yourself can you see that they are truly fun, and something tells us that you will not regret playing them even for a second! When you are done, do not hesitate to check out the many other categories of games we have, all of them also being filled with great games to play as well!