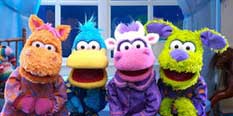 Pajanimals Games
🤔 What are Pajanimals Games?
Only on our website you are able to find and play the best online Pajanimals Games on the internet, all of them games we highly recommend to all of our visitors, as we then recommend you browse our many other categories, and surely in no time at all find something to your liking!
Pajanimals Games
We now want to welcome each and every one of you to the Pajanimals Games category from our website, which is a brand new category of Nick Jr Games we are very happy we have managed to bring over to our website for all of you, because we know for sure that there are not that many websites out there that currently offer these games, and not only that, but since we have had a tremendous time playing all of them, we have no doubt at all that the same thing is going to apply to you all as well, and we are positive that our website is better off now that these games are available on it. The characters in the show have been created by Jim Henson, who is a figure of children's toys, so we are not at all surprised that this show became a hit, and so many preschool children love to play games with them as well. The show ran only for two seasons, from 2011 to 2013, but there are plenty of episodes from the show that are still being aired on Nick Jr all over the world, and not only that, but they are also available on the internet on all sorts of streaming services, so we are positive that there are still plenty of children watching the show and wating to play Pajanimals Games, which we hope that you are going to as well! Trust us when we say that for you to play and enjoy these games you do not even have to know anything about the show, or to have seen it before, which is something that we have tested on the members of our administrative team, some of which had no idea about this world before playing the games, and then told us they enjoyed them greatly. Now, we realize that there might be some of you who do not dare to start playing Pajanimals Games without knowing anything about the world surrounding these games, so if that is the case, you are lucky, since you can read this description to the end and learn what this world and these characters are all about. If you were not decided if you want to play these games or not before, you will surely want to after reading about the show and also about the games, of which we are going to tell you as well in this description. The Pajanimals are four friendly animals dressed in pijamas, who share with children their final moments before bedtime, and they do it through playing, singing songs, and together they travel to all sorts of fantastic lands, where they have different adventures, and from each adventure the children watching these characters are able to learn all sorts of valuable lessons. It is the best show to watch before going to bed as a child, and it certainly has a concept that has not been used before many times, so it is truly an interesting experience. Let's see who are the characters, as you will play with them Pajanimals Games many times. We have Apollo, the leader, who is a green and purple friendly dog, and has a rocket with which he enjoys playing. Squacky is a blue and yellow duck always ready for action, and who pretends to be a super hero named Super Squacky. Sweetpea Sue is a very smart horse, and the eldest one of the group. Cowbella is a purple cow who loves everything girly, from princesses to unicorns. Now that we have told you what the show is all about, as well as who are the characters in it, allows to present you the online Pajanimals Games which you will find available on this page, as we are positive that it is only going to make you more interested in playing them. You will find skill games, bouncing games, flying games, rocket ship games, decoration games, memory games, as well as many other types of games, all of which we recommend, because from our experience, we believe that you are going to have a wonderful time, or else we would not have brought them over in the first place. Allow us to invite you once more to start playing them, because we really believe you are missing out on something if you don't! Do not hesitate to also share this page or our entire website with your friends as well, so that they are also able to find the brilliant games that we have to offer here, for which they will be very thankful, for sure! You can rest assured that our website is the best place to look for and play Pajanimals Games, as well as any other games, so start your fun right now, and do not look back even a second!