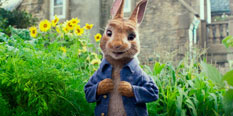 Peter Rabbit Games
🤔 What are Peter Rabbit Games?
Welcome all to Peter Rabbit Games, which is a brand new games category that we highly recommend to everyone, as we have managed to put into it lots of awesome games for you to play, so we really hope that you give them a chance right now, and see for yourself why we really wanted them to be available here in the first place!
Peter Rabbit Games
Right now on our website you are all welcomed to play some of the best Peter Rabbit Games on the internet, because we have created this page with the purpose of bringing in it the best games on the internet that are based upon this character, and we are sure that you will appreciate this a lot, since the movie that has been released for this franchise in 2018 has been a real hit everywhere, which can only mean that there is lots of interest in these games by children all over the world, and even by older people, considering that this character has been around for decades now, as it is one of the most popular characters in the world of children's book. It is now a full-fledged franchise, as it has had graphic novels, television series in animated form, and in 2018 it even had a live-action feature-length movie that has blown audiences away. It is a great time to be a Peter Rabbit fan, and an even better time to be a fan of online games as well, because you will now be able to play the most awesome online Peter Rabbit Games on the internet, and we don't think this is a chance you should be missing out on! Of course, if you are already fans of this world, then that won't happen, but instead, you will start to play the games and have fun with them at once like only here is possible. For the rest of you, who might not yet be decided if you want to play friv Peter Rabbit Games or not, worry not, as in this following part of the description we teach you all about the character and their world, after which we also tell you what kinds of free Peter Rabbit Games you get to play here, so after reading about all of these things, we have no doubt at all that you will start to have fun immediately, like only on our website you could! Well, shall we start with the origins of the character, and the premise to his latest movie? Peter Rabbit is the main character in a children's book originating back to 1902, by the title of The Tale of Peter Rabbit. The books proved to be highly popular, which is why this year we have had the premiere of its live-action adaptation. The film follows the adventures of Peter Rabbit, together with his friends such as his cousin Benjamin Bunny, Flopsy, Mopsy and Cottontail, who spend most of their days trying to sneak into Mr McGreggor's vegetable garden, where they want to eat as many carrots as they want, since they are rabbits, and they really love this vegetable. After the owner of the vegetable garden dies, who was quite a nasty man actually, Rabbit invites all of his animal friends to take over the manor, which they do, together with their human friend Bea. All is great until McGreggor's nephew comes to town, and chaos ensues. Quite interesting, right? The cast of the movie also featured very popular actors such as James Corden, Margot Robbie, or Daisy Ridley, so we are not at all surprised in the popularity this movie has had. Now, since that has been told, it is time for us to tell you what kinds of Peter Rabbit Games you will be able to find and play here for free. The category is going to be quite diverse, having games that are both fun and educational and skill-improving at the same time. You will have obstacle course games, shuffling games, hidden objects games, skill games, puzzle games, memory games, adventure games, and more, so no matter what your tastes in online games usually are, we have no doubt at all that immediately you are going to find at least one game to your liking here, although we suspect the number to be bigger. Now, since we have told you all we wanted regarding this page, the only thing left for you to do is to start playing the games at once! When you are done, do not hesitate to invite your friends over to Friv Games Today, as they might not have known of our website, and about the many amazing games we have. You should also come back here daily, since each new day brings at least 15 new games for you to play, one more fun and more interesting than the other, so if you want the fun to never stop, you are in the best place for that! Good luck, and we hope you have a blast with Peter Rabbit Games and all other games on our website!