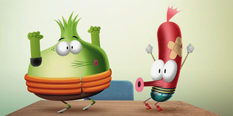 Pinky Malinky Games
🤔 What are Pinky Malinky Games?
Playing Pinky Malinky Games will be a lot of fun, as here you can play with a high school student who was turned into a hot dog. This interesting premise makes for even more interesting Pinky Malinky Games, which we invite you to play right away!
Pinky Malinky Games
Pinky Malinky Games is another one of our wonderful Nickelodeon Games categories which you can find on GamesZap.com, the home of the most wonderful and fun games on the internet, which are all offered for free. Also on our website, we are always searching the web trying to find all the newest games, and learn about the new television series that are set to air on children's and teenagers television channels. Pinky Malinky is one of those upcoming series which are going to air in the year 2016, on Nickelodeon, so we want to be able to offer you some Pinky Malinky Games before it starts airing, so that after the first episode is shown, you will be able to easily find awesome games based on the cartoon. Pinky Malinky seems to be one of the most whacky shows that will air on Nickelodeon, will have interesting and unique characters, and we are sure that the stories it will tell will be very interesting, full of comedic moments, and won't be dull for one moment. You will see that now, as we will tell you the premise of the Pinky Malinky show, which we are positive that it will make you excited for the Pinky Malinky Games on our website. Pinky Malinky is a student in high school, but he is not an usual one at all. That is because he has been turned into a talking hot dog. Yes, you have read that right. In this show, you will be able to see his every day life, as he struggles to live in this human world, when he is just a wiener. He will be joined by his two human best friends, named Babs Buttman and JJ Jameson. This will be an unusual cartoon, because the characters will be talking to the camera directly at times, telling the viewers about their sily take on the things that happen to them and life in general. It will be shown following the recipes of mockumentaries and reality television, making the wierd premise and characters even more interesting and fun to watch. There are many children and teens that think they do not fit in, which is exactly in the same situations, as he is a hot dog, and not a human. Still, his antics will show viewers that he is just as important, he can also be a winner, and that you can always fit in, take life as it is, and do the best of it. You can count us in on watching the show, which is why we knew that we had to also have Pinky Malinky Games on our website, to share with you! In the Pinky Malinky Games category you will find memory games, puzzle games or coloring games, and we expect that after the show starts airing, even more interesting and varied games to be added. The last thing that we have to tell you here is to wish you good luck at playing Pinky Malinky Games, and to encourage you to also share this page to your friends, so that they can also find our website, where all the best Pinky Malinky Games and more can be found and played for free!