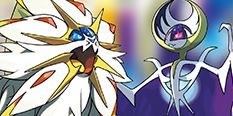 Pokemon Sun and Moon Games
🤔 What are Pokemon Sun and Moon Games?
It is only here that you can find and play such amazing Pokemon Sun and Moon Games as the ones we have added you, as this is a really great category of Pokemon Games! Start playing these Pokemon Sun and Moon Games right now, then, and see if you like them or not yourself!
Pokemon Sun and Moon Games
Pokemon Sun and Moon Games is the newest category of Pokemon Games that we have created on our website, as we have already had a Pokemon Go Games category, which was really popular back when the application was popular as well. Well, that category still remains popular though, since Pokemon has been with us for decades now, and it is still going to remain relevant decades to come, for sure, with the animated series now being in it's 20th season, which is called Sun and Moon, just like one of the video games in the franchise, after which this new season is based. We know that it has been a year since the season has started, which is in 2016, but now we have finally found some Pokemon Sun and Moon Games online, games that are based solely on this series, because we do not like to create categories based on a series, and bring you games in it that are based on another one, since it is cheating. So, if for some time now you have been wondering where you can find online Pokemon Sun and Moon Games based specifically on this animated series, then we hope you are happy that you have finally found your answer, and you are now on GamesZap.com, where we are always going to make sure that we offer you the newest games on the internet, and that we have as much unique and awesome content as possible, because we know that that is the reason why so many children visit us daily, knowing that here they can have a really fun time! Even though this animated series has a subtitle to it, it still continues the adventures of the same Ash Ketchum, following the events of the last season, but this one brings a lot of new things into place, because he moves to a whole other region, meaning there are going to be new pokemon, new characters, and a lot of new adventures. If you are not caught up with the show, and have no idea what it is about, we invite you to read the following lines of the description, where we are going to tell you more things about it, and we are sure that after you are done reading you will want to start playing Pokemon Sun and Moon Games as soon as possible! In this new season, Ash travels with Pikachu and his mother to the Alola region, in order to give professor's Oak cousin, Samson, a Pokemon egg. Samson has a school for Pokemon trainers there, where in a mission to defend the school, Ash witnesses a new type of move used by Pokemon there, a Z-Move, and Ash becomes really interested in this new thing. During his sleep, Tapu Koko, the guardian Pokemon comes to Ash and offers him a Z-ring, with which he can perform Z-moves as well. After that, he gets permission from his mother, and Ash stays behind in the Alola region, where he enrolls into the school, and begins his new adventures, where he will learn how to use Z-moves, capture and meet all sorts of new types of pokemon, while making new friends and new foes at the same time. Can he catch them all and become a master of this region as well? We sure hope so, and considering that the show is still strong, it must be that children love to watch this character and his adventure, so that means that you will also probably love to play Pokemon Sun and Moon Games online as well, just like you probably like to play any other Pokemon Games online! So far in this category we can offer you a really interesting puzzle game, where you solve sliding puzzles with images from the show, but we are sure that in the future there are going to be more games to follow, and that you are going to enjoy each of them, because we only add remarkable and really fun games on our website! Well, now that we have told you all of these things, we really hope that the next thing you all do is check out the games we have added on this page, and give them all a go, as we are certain that you are going to have a tremendous time playing them! Do not forget to also tell all of your friends that on our website they can find not only the best Pokemon Sun and Moon Games out there, but plenty of other games as well, and that on our website, fun never really stops! Remember that whenever you want to play great Pokemon Sun and Moon Games, visit us first, and make sure our website is a daily stop for you, because we are sure you will find amazing things all the time!