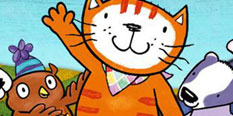 Poppy Cat Games
🤔 What are Poppy Cat Games?
Only here you are able to find and play the most amazing Poppy Cat Games online, with these characters that many of you clearly love, who go on incredible adventures like you would not imagine!
Poppy Cat Games
There are so many amazing categories of games that are not available for you to find and enjoy on any other websites, which proves why this place should be the best place for you to come day after day to find new and interesting games to play, and the Poppy Cat Games category is proof enough for that since we don't really know that many other websites that at this moment offer you these games, but here we are for you! Whether you are fans of the animated show with the same name that the games have been based upon, or you simply want to try out new games with characters that we've added, it is good that you are here, since we know from our own experience with these games with Poppy Cat that you can have a great time, so it is greatly recommended that you check them out as well, or we would not have even created the page in the first place! In case you have seen this show before, we're quite positive that you will jump straight to playing our friv Poppy Cat Games, but in case you have not seen it before, reading this article to the end could be a great experience, since we will tell you here what the show is about, who is the title character as well as its friends, and, obviously, you will also learn what kinds of free games you will find and play on this page, surely making you interested in giving them a try! The Extraordinary Adventures of Poppy Cat is an alternative title for this show, and you first need to know that it is based on a series of children's books, which is how some of the children that are nowhere might have found this character and world first. Poppy is the main character of the show, a female cat wearing a neckerchief, who goes on amazing adventures with her stuffed animal friends which she leads, such as Alma, a bunny, Zuzu, who is a dalmatian puppy, Owl, whose name is that of his species, and Mo, who is a mouse. All of these animals belong to Lara, a young girl who does not really know that her animals come alive when she is not watching and playing with them. When not seen, they don't miss the chance of going on adventures and having fun, and they usually use the magical powers of Poppy Cat's neckerchief, which can transform into cars, boats, planes, and other modes of transportation for the gang to use. Of course, any great show needs a great antagonist, and this show has Egbert, the badger who is always rude to them and loves to make fun of them, which is never nice. Lara narrates the adventures, as she is the one with the imagination who creates these fantastic stories that the animals are going on. Poppy has great abilities when it comes to leadership, is always down for anything, is brave, and quite happy-go-lucky. Every adventure that you see is full of imaginary adventures that keep the children entertained, and also educated them in various fields, which are two things that all amazing shows for children should have. These traits also seem to find their way into the online Poppy Cat Games you get to play here for free, such as Smash-Teroids with Rocket-Cat, where you go to space with the cat, trying to take down the asteroids threatening to crash into Earth, or Super Looper, where the whole gang jumps into the cockpit of a plane and start soaring the sky, all of these activities being handled by you, who guide them through the adventures! What are you waiting for? As you can clearly see, there is a lot of fun to be had by playing Poppy Cat Games, so start right now, and stick around our website as much as you can, playing all of the amazing games that we still have in store for you!