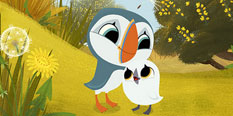 Puffin Rock Games
🤔 What are Puffin Rock Games?
If you were looking for the best place to play online Puffin Rock Games, then look no further, as you have arrived to it, our website, where we are sure that up next you will be having a great time, with all of the games on this page, and we hope that after that, you are going to check out the other ones we have provided you here.
Puffin Rock Games
It is with great pleasure that right now we get to welcome you all into the Puffin Rock Games category, a category which we are very happy we have managed to finally create, and which we believe to be quite a great addition for our website, where it is going to fit in great with the multitude of hundreds of other amazing ones we created over time, and who knows, maybe it will even bring fans of the show to our website, fans who have never before been here, and who are about to enter an amazing world of fun, since we are proud to say that we have thousands of amazing games on our website, with these Puffin Rock Games being just a small portion of them, so being here is always a great idea. We are always in the pursuit of making our website better by creating new categories, especially if these categories cannot be found on many other websites. When does that happen? Well, it is the case mostly with series that do not have quite a world-wide fan-base, who might come from non English-speaking countries, or from smaller ones. Well, this series might not be known that much, as it comes originally from Ireland, but it seems that over time it has made its way to many other countries in the world, so we believe that there must be interest in these Puffin Rock Games, although there are not that many of them currently available on the internet. Yes, it saddens us to say, but so far we have found only four games to bring you here, but nonetheless, they are quite diverse, as the category proudly has puzzle games, coloring games, memory games, and even adventure games, so we are sure that you are going to enjoy each of them, as we certainly did. That is because one of the main factors for us to create a category is always if we have had fun with its games, and that was certainly the case with these ones. Now, if you are already fans of this show, then you know what you have come here for, so we are sure that nothing will stand in your way from starting to play these games immediately, not even this description. That is ok, since this description is more for those who have come here without knowing anything about the show. That is why in the next part of it we are going to tell you what the show is about, and of course, who the show is about, answers which you will get and which we are sure will determine you to start playing these great online games immediately, after which we are positive you will have no regrets at all. The show is set on a fictional island on the Irish coast, and follows the day to day adventures of a young puffin going by the name of Oona, as well as her little brother, who is named Baba. Each episode sees these character together, having all sorts of adventures while exploring the world around them, and learning about it, which is what young children should do, no matter if they are humans of birds, like in this case. This also gives the children who watch the show opportunity to learn things themselves, so having an educational aspect makes this show even more deserving of praise. Oona treats every new day as an opportunity, and Baba can be very easily distracted, and even clumsy at times, but these things are what makes him so loved. Well, if at the beginning of this description you were not quite sure if you want to play the games on this page or not, we are quite positive that after reading all of the wonderful things regarding the series, its characters, and of course, the online games available on this page, you have finally decided to give the games a chance, something we hope that you are going to be doing immediately! Well, remember that besides these games, our website is filled with thousands more, so we hope that when you finish playing the games here, the first thing that you will do is continue browsing our website for more awesome content. Another thing that we hope you will do is invite your friends over, since the only way that this website becomes better is if more people are here, which can only mean more games and more fun for everyone, would you not agree? Come daily, invite your friends, and that way you will be able to be aware of all the great online games on the internet, not just Puffin Rock Games, as we are going to prove you day by day that we are the best place to be!