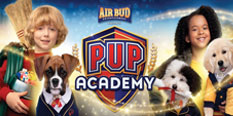 Pup Academy Games
🤔 What are Pup Academy Games?
It is only here that you can now find and play the best new Pup Academy Games on the internet, games with puppies, adventures, and important lessons, and even more importantly, you never get bored!
Pup Academy Games
It is only on Friv Games Today that you can now all find and play the best new Pup Academy Games on the internet, one of the best new categories of games to have been created for our website since this is one of the newest shows to have started airing on Disney Channel and plenty other networks all over the world, and just like we are used to shows that focus on dogs and puppies, we have a feeling this one is going to be huge all over the world too since children seem to really love shows like this, and even more so, they love games based around them. Even more, reasons to be interested, Pup Academy is a spin-off show and the first venture into television for the Air Bud series, a long-running series of live-action movies with dogs as main characters, which we are sure children are quite familiar with, which will only make them even more interested in this new series that they get to discover and enjoy here. Sounds terrific, right? Well, in case you are not familiar with the show, as you might not have seen it at all, we will now use the remaining space in this article to tell you what it is about, who are the main characters in it, and you also get to find out more details on the friv Pup Academy Games we have to offer, so that you get a comprehensive look on this series and get even more interested in it! In a parallel world, a man by the name of Charlie has set up an academy for puppies, where they train day by day to become dogs and learn important lessons about being such animals. One day, when Morgan, his grandson, moves in the vicinity of the academy, he invites him to help with the daily duties of running it and teaching the puppies their lessons. Spark, Corazon, and Whiz are the puppies being cared for at the academy. It is also a time of unrest since it is said that the connection between humans and dogs is getting weaker, and there is also a prophecy that a boy is going to find and rescue a stray dog and save Pup Academy through that miraculous act. Well, as you can see, the show has an interesting premise, as well as a story you would not expect from a simple show with dogs, so we are positive it is going to be widely acclaimed by kids everywhere, who will then want to find a great place for playing games with Pup Academy, and that place is going to be our website, of course! The first game that has graced us with its presence here is called Pup Academy Scene Maker, it is a decoration game where you get to make your own scene from the show, just like you imagined it. Obviously, there are going to be other games added here in the future, and whenever new games with these characters appear, you can be sure that we will have the first, so visiting our website as often as possible is something you should definitely consider! What are you waiting for? Experience and discover our world of Pup Academy Games right now, have the best time of your life and don't leave anywhere, since we would love to see you play more of our other games too, so don't hesitate to visit other categories as well!