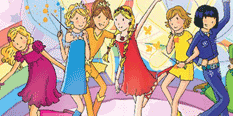 Rainbow Magic Games
🤔 What are Rainbow Magic Games?
If you like fairy games, then the Rainbow Magic Games category is the one place for you! In the Rainbow Magic Games category you will be able to meet many interesting fairies, and have a lot of fun with them in their magical world, where new events are always taking place, and you are always invited to attend and participate. Have fun!
Rainbow Magic Games
For all the fairy enthusiasts and lovers of fairy games, GamesZap.com is here for you with the best category of fairy games ever, which is the Rainbow Magic Games category which we have just created, for all of you, knowing that you are going to enjoy playing these games very much! Now, we are aware that some of you might be wondering and asking yourselves: what is Rainbow Magic again? Well, that is because children these days don't read that much as they used to, because Rainbow Magic is a series of books which also has a lot of images, and presents the world of magical fairies. Well, we here on our website we create categories based on whatever kind of media we find interesting, and we can tell you that you will love playing these Rainbow Magic Games, even if you haven't read the books. Especially after we are done with this description, where we are prepared to offer you as much information as possible about this world, so that you get to know it better, and have a lot of fun playing the games here! So, shall we start then? While the books feature a lot of fairies, we are introduced to this world through the eyese of two best friends, both from neighbouring villages, Rachel Walker and Kirsty Tate. The two girls go on incredible adventures in a world full of magic, together with their fairy friends. There are all kinds of fairies, for all kinds of aspects of life, like showbiz fairies, seasons fairies, or wheater fairies. Of course, the fairies also have rulers, whic are Queen Titania and King Oberon. The main villain of the books and an enemy of the fairies is Jack Frost, who lives in an Ice Castle, and he rules goblins. In the books we can also read about the parents of the two girls, or all sorts of animals and creatures that reside in this world. Since the world of the books is so vast and never ending, you can expect to do a lot of interesting things while playing Rainbow Magic Games. For example, you will be able to create your own fairy, you will play hide and seek with them in their magical land, and because they have wings, you will be able to take flight with the fairies. Who knows, maybe in one of the games the fate of the fairy kingdom will be in your hands. Also try out the more simple games like the coloring games in this category, which are also a lot of fun! We belive that we have created a very interesting category and flled it with fun and great Rainbow Magic Games, so we invite you to start playing them right now! Even if you are not a big fan of Fairy Games, we are sure that you will enjoy Rainbow Magic Games, as they are games made for all girls to love playing!