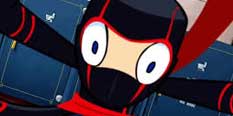 Randy Cunningham 9th Grade Ninja Games
🤔 What are Randy Cunningham 9th Grade Ninja Games?
Randy Cunningham Games like the ones that you get to find right on this page you will not find anywhere else, so waste no time at all, but begin playing the games right now, and we are sure that you will find yourself having fun immediately! After that, do not hesitate to try other games we have here!
Randy Cunningham 9th Grade Ninja Games
Randy Cunningham 9th Grade Ninja Games, or simply Randy Cunningham Games, is one of the newest categories of Disney XD Games and ninja games online from our website, which our administrative team has brought to you all because we know that you come on our website because you are looking for the best online games on the internet, and we are sure that this category is a great addition to it, for multiple reasons. First of all, there are plenty of Randy Cunningham Games available on the internet at the moment, some made by the network, some fan-made, but one thing is certain, and that is that each of them is really fun and interesting to play, which is what made us waste no time at all in creating this page. The second reason for that would be because this is a category of games based on a show that used to air on Disney XD, and that is one of the most popular networks for children and teens out there, and games that are based upon shows airing there are usually really popular on our website, and played by quite a few people. We know that this is a show that was on only for three years, with a total of 50 episodes, but duing that time we are sure that it has garnered quite a fan base, and it is still aired as re-runs on Disney XD all over the world, so we are positive that there are still people who get to discover it all the time. Also, it is the age of the internet, so we are sure that many of you might have discovered this animated series online, and after watching it, you wanted to also play Randy Cunningham Games, which you get to do on our website right now! You should definitely do it on our website and not anywhere else, since our administrative team has made sure that our website has the complete collection of games based on this show, so there is no need for you to look any further. Of course, there are chances that not all of you currently reading this have known the show prior to arriving on this page, which is why you might be reading this in the first place. If that is the case and you want to learn more about these Randy Cunningham Games, we invite you to keep on reading then, because up next we are going to tell you what the show is all about, and we are sure that when you are done reading this, you will want to play Randy Cunningham 9th Grade Ninja Games right away! The show is set in the town of Norrisville, which is famous for having been protected by a ninja for 800 years. The thing they do not know is that it is not the same ninja, as he chances every four years. The current one, and the one we follow in the show is a ninth grader called Randy Cunningham, who has to protect the town from the evil Sorcerer, Hannibal McFist, his ally, and his assistant, Willem Viceroy. Of course, Randy also has help himself, in the form of Howard, his best friend, who is the only one that knows of his secret life as the ninja protector of Norrisville. Well, isn't this premise really interesting? It certainly is, and we hope that reading about it has now made you more curious about the games on this page. Well, the Randy Cunningham 9th Grade Ninja Games that we have on this page can range from action games, adventure games, to skill games, running games, fighting games, boat games, monster games, and plenty others, most of them being action-oriented, with you having to help Randy face off with the dark forces that threaten the safety of the people in his town which he has swore to protect. Well, now that you also know what to expect from the games of this page, what is there to wait for? The only thing left for all of you reading this to do is to browse the page, choose a game from it, and start playing! We are sure that you will begin having fun from the get-go, and in no time at all you will have found yourself having played all the games on this page. Do not fret when that happens, because our website currently hosts hundreds of categories, each of them filled with plenty of awesome games for you all to play, so it is going to take you no time at all in finding something new and great to play. Do not forget to also tell your friends about these Randy Cunningham Games and our website, as we have no doubt at all they will appreciate being able to play them and have fun!