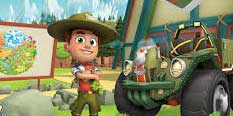 Ranger Rob Games
🤔 What are Ranger Rob Games?
We are very happy that on our website we now have a category of Ranger Rob Games, where we bring you some of the best games on the internet based on this show, which we have no doubt at all you will enjoy from start to finish, all the time!
Ranger Rob Games
Welcome everyone to the Ranger Rob Games category on our website, one of the newest categories of games we are delighted to present to everyone, since we know that so many children all over the world visit our website daily to find the latest games on the internet, and the reason for doing that is because they know that we provide those games, as we are continously trying our best to bring you new and awesome categories and games, so that you will never be disappointed while on our website. One thing that we make sure to do on our website is be up to date with all of the new shows airing on television, since we know that when a new show comes up, there are lots of children world-wide searching the internet for games with those characters, and we want to be able to provide them to all of them, since we want you to be able to have lots of fun with your new favorite characters. Well, for that reason, you can now find on our website the Ranger Rob Games category, a category of games that is based upon a new show from Sprout, which is slowly becoming one of the best networks for children, and in addition to their shows being very good, the games that are based on them never disappoint either. We have seen that there are not too many websites out there to currently offer Ranger Rob Games to their visitors, so we took care of that problem. Not only that, but we have even took things further, since we have created an original game for this category, a game entitled Ranger Rob Coloring Book, where you get to color not one, but six pages featuring characters and scenes from the show, an opportunity you did ot have before, since most of the other Ranger Rob Games we had were skill games or logic games, all of them fun in their own right. Since we are on this topic, we are going to assure you right now that you will never be disappointed in our selection of Ranger Rob Games, and whenever new games based on this show are released anywhere on the internet, we will waste no time at all in bringing them over to our loyal fans, who come here to have fun daily! If you are not yet sure that you want to play these games, which we certainly hope you do, we invite you to keep on reading the description, because the next part of it is dedicated to explaining what the show is about, and offering you more details about Rob, the main character we follow in it. Rob, although a young boy, si already a ranger, and a very good one, who does not shy away from anything. He was thought to be like that by his parents, who are just like he is, which is why he turned out to be a great ranger, just like his parents. There is not much to tell you about this show, as it mainly consists of adventures that Rob has together with his two friends, Stomper and Dakota, who do all sorts of things around Big Sky Park, the national park that Rob and his family have to take care of as rangers. Now, let's give you some great information about his two friends: first of all, Stomper is a Yeti, something that can be realized from his name even, and Dakota is the one who always surprises Rob by swinging down on a vine and saying hello. With such a premise, a setting so interesting and new, and such characters, we are not surprised at all that the show has been so well received, as it is going to have a second season, for which we are excited, and only shows that do good get to have second seasons. Until new episodes are on the air, you can spend time playing the games on this page, one more fun than the other one, because it is fun watching Rob's antics as a ranger, but it is even more fun to be a ranger yourself, and get in on the action directly. You should waste no time at all, but instead browse the Ranger Rob Games category right now to find awesome games to play, and then you should definitely show them to your friends as well, as we are positive that they also want to have a really great time on our website, isn't that right? Many other categories await you on our website, so when you are done with all of the games from this page, do not hesitate to visit other pages, so that you can continue having fun like you get to have only on GamesZap.com!