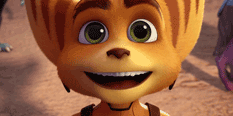 Ratchet and Clank Games
🤔 What are Ratchet and Clank Games?
We present you with the Ratchet and Clank Games category, created for all the fans of the playstation games series or the new 2016 animatef feature film! In the Ratchet and Clank Games category you will join Ratched and Clank in their incredible adventures through space, filled with action and adventure, and you are going to have a great time for sure!
Ratchet and Clank Games
A brand new category has been created for you on GamesZap.com, and that is the Ratchet and Clank Games category, which is a very interesting category you can't miss, because here you are going to find a great deal of interesting games for you to play. Our team does not only create categories based on animation tv shows, but also based on animated feature films, because we know that after children watch a cartoon film, they will search the internet for games based on that film, especially if they liked it, and we want to be able to provide them with their favorite games, which is why we also created the Ratchet and Clank Games category. This film began it'r run in cinemas at the end of April 2016, and if you did not know, the film is based on the Ratchet and Clank Games, which is a video game series for playstation consoles, and it is a platformer series. Well, the online Ratchet and Clank Games does not resume only to platformer games, but it has a great variety of other interesting games for you to play, and most of them are based on this new film, so next, we are going to tell you the main plot of the film, because you might be interested. If you are not, because you have seen the film or are familiar with the series, just go ahead and play the wonderful Ratchet and Clank Games you can see on this page. Ratchet is a spaceship mechanic from the planet Veldin, who dreams of joining the Galactic Rangers, a peacekeeping team of warriors who keep things in order in the galaxy, and he gets an opportunity to join the team because they came to his planet, to look for a new recruit. Unfortunately, he is rejected seconds later. On Veldin he meets Clank, a robot who came from a factory of the villains, made to be used in war, but Clank was defective, so he fled to tell the rangers of Chairman Drek's plan, and he ended up on Ratchet's planet. They go to find the rangers, they rescue them from a pinch, and become instant celebrities. The movie then follows their further adventures through space, joining the rangers and trying to stop the evil plans of Drek, who threatens the safety of the whole galaxy. In the Ratchet and Clank Games category you are going to be able to find and play all sorts of games, like shooting games, adventure games, but also more logic oriented games like puzzle games, memory games, numbers finding games, or for the artists, fun coloring games where you can colour your favorite characters from Ratchet and Clank. We wish you are going to try out all the Ratchet and Clank Games on our website, and not miss on the incredible fun that they could be offering you! If you have friends looking for Ratchet and Clank Games, tell them to come to GamesZap.com right away, and they are going to find what they are looking for! Good luck!