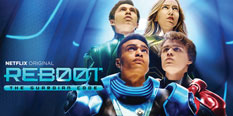 ReBoot The Guardian Code Games
🤔 What are ReBoot The Guardian Code Games?
ReBoot The Guardian Code Games is one of the best new categories of games we have created for our website in quite a long time, and it is also one that you can't find on many other websites, so we really hope that the first thing you do after reading this is starting to play the games and have fun with them a lot!
ReBoot The Guardian Code Games
Welcome everyone to the ReBoot The Guardian Code Games category, which is one of the newest categories of games that we have created for Friv Games Today, and we are very happy we have done so, because we have noticed that there are no other websites out there who, at this moment, have any games based on this show, a show that has had its premiere last year, on television in Canada, on YTV, but it was also streamed worldwide by Netflix, with two seasons having been produced so far, and we definitely expect another one to come any time soon, and when that happens, we will be prepared with awesome ReBoot The Guardian Code Games to offer you, just like we are prepared with any other category we have here. Like we said, at this moment, there are no other websites out there who have this category, so if you are a fan of this show, don't bother wasting your time searching for these game anywhere else, because you are already in the best place possible! Of course, this applies even if you are not a fan of the show, and might not ever have seen it, because we believe that you can easily enjoy the games on this page even if you don't know the show at all. How do we know that? Well, some members of our administrative team have played the games this way, and they still had a terrific time. Of course, that does not mean you have to go into the games blindly, as you can read this article to the end, and, from it, learn what the show is all about, who are the main characters in it, and, of course, when we are done with that, we will also tell you what kinds of ReBoot The Guardian Code Games have been made available for you on this page, all for free, of course! First, know that this series is actually a reboot, of a series that was simply called ReBoot, and it was an animated series, with this one being a fully live-action one, so it is a little bit different, but still lots of fun to be had, because if that had not been the case, we don't think it would have been renewed for a second season. Let's see what it is all about then, shall we? Well, the show follows four teenagers, members of a really great team in an online school, who one day meet in real-life at the high school. It is not a coincidence they all meet at the same school, because this was arranged by the artificial intelligence known as Vera, who recruits them as guardians, in order to actually enter the cyber-space and protect it. Vera has been locked out of the cyberspace, so she is given a human body and enters the school as an exchange student. What does the virtual world need to be protected? Well, the villain is a human hacker going by the name of Sourcerer, who has been infected with some malware and is actually the father of Alan, one of the members in the team. This villain manages to unlock an even bigger threat, the computer virus known as Megabyte, who is the villain in the original series, who has long been locked-up, but now is free, and it is up to the guardians to deal with him! Vector, Enigma, Googz, and D-Frag are the aliases of the four team members, each with different personalities, styles, and abilities, but their differences never stop them from doing the right thing, and they are a great team together! Well, know that we have made you familiar with the premise of the show and its characters, it's time to tell you about the ReBoot The Guardian Code Games of this page. So far, there is only one, but a great one at that, a game where you have to match items in order to accumulate power, power that you then use to defeat your opponents in battle, meaning that it manages to combine fighting games with match 3 games, resulting in quite the unique and fun experience! Of course, we are sure that more will follow along in the future, so stick around, in order to be the first one to check them out! Start now with these games, and don't leave, but make sure to check out what other amazing games and categories we have here for you, all for free!