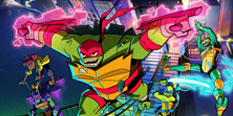 Rise of the Teenage Mutant Ninja Turtles Games
💡 Play similar online games!
🤔 What are Rise of the Teenage Mutant Ninja Turtles Games?
Welcome all to Rise of the Teenage Mutant Ninja Turtles Games, which is our new amazing category of Nickelodeon Games, which we have been the first website to create, so we highly recommend that none of you miss out on this opportunity, because that means missing out on the chance to have fun, fun like only here is possible!
📂 Related Categories

Teenage Mutant Ninja Turtles
Rise of the Teenage Mutant Ninja Turtles Games
Rise of the Teenage Mutant Ninja Turtles Games is the newest category of Nickelodeon Games that our administrative team is very happy to present to everyone on our website, even more so because we know that we are the first website that has created it, and that has brought games in it, months before the official release date of the show. In recent years, Ninja Turtles have become more and more popular, thanks to the CGI-animated show on Nickelodeon which has run until recently, with two live-action movies having also been released and doing quite well at the box-office, and this is not surprising at all, considering that the comics and television series have been around for a long time, and they have always been very popular. These characters are also interanationally famous, as they are known by children of all ages and all over the world, so we are not surprised at all that Nickelodeon decided to release yet another animated series based on these characters, this being a re-imagining, in order to differentiate itself from the previous series, and to bring a fresh new take on the franchise, which is something which is always cool, we believe so, since it prevents things from getting boring. We have a feeling that when this show debuts in September of 2018, there will be lots of children simply loving it from the get-go, especially since the special preview from July has also been well received. When that time comes, one thing is for certain, and that is that our website will be the most prepared to offer fans online Rise of the Teenage Mutant Ninja Turtles Games, since we have been the first ones to add the first ever game in the series, called City Showdown. Of course, ever since then, the category has developed and more awesome games have been brought to it, so we invite you all to browse it right now, as we are positive that in no time at all you will find some cool game that you enjoy to the max! Weather we are talking about action games, adventure games, battle games, skill games, racing games, puzzle games, coloring games, or other formats, everyone is able to find at least a game of their liking on this page, although we recommend they keep trying out the others as well, so as not to miss out on any of the fun provided by this page. Now, the following part of the description is going to deal with the premise of the show, and its characters, and we are positive that after you read about these things, you will immediately want to play Rise of the Teenage Mutant Ninja Turtles Games, which we encourage you to do. Of course, we believe that you can still have fun with these games even if you do not know a thing about the series, so if you want to get to playing them right now, go ahead! Leonardo, Raphael, Donatello, and Michelangelo are the names of the four genetically-modified turtles, which can speak, act, and think like humans, and during the show can be seen during their teenage years, which is where the title comes from. These mutants have been raised by another animal which has been experimented on, Master Splinter, a giant rat, who does not only take care of the turtles from infancy, but also develops their skills in martial arts, at which they become experts, which is why they are also called ninjas. Each turtle has their own characteristics, and they do not always get along perfectly, as it is normal of siblings, but that is why they always have to work through their differences, and find a common path, in order to defeat any villains they might encounter, and save people from danger. They live in the sewers of New York, as their existence would probably create lots of problems for them, as they hide from humans all the time. Still, they end up making friends with one, April, a girl who is not afraid of the four, but is their friend and helps them whenever she can. Together they have all sorts of amazing adventures! With these things being said, why would you not try out Rise of the Teenage Mutant Ninja Turtles Games right away? You now know all you need about this page, so playing Rise of the Teenage Mutant Ninja Turtles Games is the next step you need to take, with the next one after being to invite your friends over to our website, so they also find and enjoy these games for free, in addition to the thousands of othe amazing friv games our website offers, which is why we are the go-to source for online games!