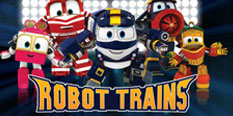 Robot Trains Games
🤔 What are Robot Trains Games?
Join us right now in the fantastic world of Robot Trains Games online, where you are in for a great time, something that we know because we have played all of these games before adding them, so there is no doubt at all you are going to love them also!
Robot Trains Games
It will always be on Friv Games Today that you find and play the best new games on the internet, and one of the main reasons for that is the sheer number of amazing categories we have here, as we keep creating categories for our visitors as often as possible, especially when it comes to shows that are airing on television and you love a lot. We also try very hard to bring you here games that you can't find on other websites, which is why this is the favorite place for many children all over the world to come and play great friv games online. Well, we are proving this today as well, because you find yourself on the Robot Trains Games category, which is a page of games that you really can't find on many other websites, so here you have even more reasons to give it a chance, because we have absolutely no doubt at all that you are going to enjoy these games, just like it has been the case for us. If you are fans of this show and characters, then you will already probably give the games a go right away, but if not, you might want to know more about this page first, no? Well, don't you worry, because this article is here to tell you what the show is about, give you details on its main characters, and when you finish reading this you will be able to find out what kinds of friv Robot Games have been made available here, which we are positive will make you very curious! Like in most other similar shows, the characters in it, which are trains, are trains that can talk and think like humans, with all of the people in the Trains World being trains, as well as robots at the same time. Well, not all of them are also robots, because only five of them can turn into robots with different abilities. They are Kay, Alf, Duck, Selly, and Victor. These transforming train robots are heroes who do their best to save their village and everyone around them from the different forces of evil that they have to encounter in each episode, with new and crazy things happening all the time in this fantastic world. Interesting, right? With each of their special abilities, the five heroes do their best all the time, and they are an example for all the children that are watching their episodes, for sure. Now, since you now have gotten more familiar with this world, why don't you also get familiar with the games with Robot Trains that you will be able to find and play here for free, games we do not doubt at all you are going to enjoy a great deal! So far, because the show is quite recent, there is not a very big number of Robot Trains Games out there, but those that are available are all really amazing in their way, and we are talking about running games, memory games, puzzle games, and differences games, but we have no doubt at all in our minds that in the future there are going to be plenty of other kinds of games brought over here for you all, and we are positive that you are going to love them all, so if you want to be the first one to always play them, make sure that you return to our website as often as possible! Now, since we have told you everything we wanted you to know regarding this category, nothing should be to hold you back anymore, and we hope that you try out these games right away. Of course, we hope this is not all that you do, as we hope to see you here some more, because our website is in constant expansion, meaning that it would be great for you to return here day by day, as well as invite friends over, and we guarantee you that there are going to be no moments of boredom, since there will be one after the other great game for you to play, and you won't regret trying any of them. Enjoy!