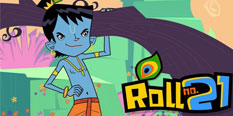 Roll No 21 Games
🤔 What are Roll No 21 Games?
We welcome you all to the Roll No 21 Games category of Cartoon Network Games, weather or not you are from India, because it does not matter at all, since the games are all very fun on their own, and you don't even have to know a thing about them to enjoy them, so make sure you start playing them right here and now!
Roll No 21 Games
Roll No 21 Games is a brand new category of Cartoon Network Games our administrative team has created for our website, where we hope to bring you as many awesome and diverse categories as possible, which is the reason why we are now looking towards series from all over the world, because there are series of animated television that are not airing only in their home country, and are made for the viewers in that countries. Still, despite of that, online games are global, and we are sure that we will prove that with the Roll No 21 Games category, which is based on a cartoon from India, which has been airing ever since 2010, so it must mean that the show is good and popular, and it also must mean that there is some interest in Roll No 21 Games, and that there are going to be plenty of children wanting to play these games. Of that we are most positive, considering that India is one of the biggest countries in the world, and not only in size, but in their population as well, so there must be lots of children interested to go online and play awesome Roll No 21 Games. Well, now you can do so on our website, and this is just the beginning, since we plant o create even more categories with games from these countries, and if there are some that have no games, we will make sure to create some ourselves, thus making our content even better than before! Now, you might be thinking that you are not going to resonate with the games if you are not from India, but that is far from the truth, since you know very well that we only add games that we play and know for sure are worth it, and if we had a terrific time playing the games on this page, surely you will do as well. Games are universal, you don't even need to know the language they are in to play them, because you eventually figure out what it is you have to do. Of course, we don't want you to go into all of this blindly, so we will use the next part of the description to tell you what the show is about, after which we are also going to tell you about what kinds of games you will be playing on this page, because you are surely interested. Kansa has reincarnated on Earth in the form of Kanishk, a school principal, trying to achieve the complete obedience of his school before conquering the world. Kris, the reincarnation of Lord Krishna, is trying to stop him, by keeping the goodness of the kids alive. Kanishk, to stop him, is always sending all sorts of monsters from the netherworld after Kris, but with his magical powers and his dedication, he always manages to stop these threats. That is mostly the premise of all the episodes in the show, and in each episode Kris is defeating the monsters with the help of his friends in school. It is a very easy to understand and awesome premise, and each episode of the show manages to teach children some valuable lessons, so it is not only a fun show, but an educational one as well, which is certainly important. Now that you have been made aware of the premise and characters of the show, we will continue by telling you what kinds of Roll No 21 Games you will be able to find and play on this page, for free of course, because playing awesome games is certainly the reason why you are here right now! There are three original games we want to share with you, Rapid River Rescue and Rapid River Rescue 2, as well as Demon Fight, being very awesome action and skill games, with which you are bound to have fun from beginning to end. Of course, we have no doubt at all that in the future, more of these games with these characters are going to become available, and you can be certain that when this will happen, our administrative team is going to quickly bring the games over to our website, becuase we are always the first ones to share the latest games on the internet with you all! Now that we have told you everything that had to be told about the Roll No 21 Games category on our website, we invite each and every one of you to check out the games yourselves and play them, because reading about them is good, but playing them is great, and you will surely be satisfied as soon as you start. When you are done, do not hesitate to check out the many other great categories of games we have here on our website!