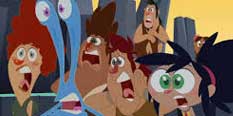 Rolling with the Ronks Games
🤔 What are Rolling with the Ronks Games?
Only here can you find and play the best Rolling with the Ronks Games on the internet, a category we definitely recommend to everyone, in which we had a lot of fun playing games, so we are positive that you will as well, like you do with most of the Disney Channel Games that we offer on our website!
Rolling with the Ronks Games
Welcome to the Rolling with the Ronks Games category, which is the newest category of Disney Channel Games we have created on our website, and we have done so because we have seen that there are currently not too many websites out there similar to ours that provide these games to their fan-base, so we wanted to do so, because we know that even though this show is not known all over the world at this point, as it has been on the air only for one year, and only in some parts of the world, we are sure that mass distribution of it is going to happen soon, and when that happens, we want to be prepared with as many awesome Rolling with the Ronks Games on our website as possible, making our website your go-to source for the latest games on the internet, which we hope we already are for many of you. We should be, since you know very well that we bring the most awesome and new categories all the time, and whenever a new game comes up online, you can count on us to be the first one to share it with the whole world. We are also global, which means we cater to countries all over the world, providing content that is enjoyed in many parts, making our website even more diverse than it already is. Not only that, but our visitors's age can ranger from preschoolers to teenagers or young adults, as we make sure to bring games for all of these categories of age. So far, the only English-speaking countries that the show has been aired so far are the countries in the United Kingdom, but it has also been aired in other places, like Poland for example. Disney Channel is the main distributor, which makes this category a must-visit, because we have seen that Disney Channel Games never disappoint. Now, we realize that many of you might not already be familiar with this world, which is why we are going to use this next part of the description to tell you more about what the show is about and who are the characters in it, after which we are also going to tell you about what kinds of Rolling with the Ronks Games you are going to be able to find on this page, because we know that the reason you are here primarily is to play awesome games, which we will make sure is possible! The show is set during prehistoric times, which creates a great and unique environment, which is not often times presented in animated shows. The prehistoric people act accordingly to their time, so they just live day by day with no reason and aim to develop their world. Instead, all over the other parts of the galaxy, people and other alien races are very evolved. Flash, an alien sensitive to the archaic ways of the people of Earth, comes to the planet in order to try and educate them, and help them advance technologically and not only. He is sent to the tribe known as the Ronks, which is where he will try his best to advance the ways of these people. Of course, these humans are not ready to advance yet, and that is where the comedy of this show comes from, with the characters having all sorts of interesting adventures, in which Flash needs to deal with people so different from him. It is a very interesting concept, which has a lot of lessons to teach children, which is why we think the show will be well received. Now that we have gotten the premise and characters out of the way, we are going to tell you what our Rolling with the Ronks Games are all about. So far, in the category you are going to be able to find and play classic games such as coloring games, puzzle games, or memory games, but as more episodes of the show are going to be produced, we are positive that the category is also going to become more diverse, with many more types being added in the future, but nonetheless, all of the games that we have so far are enjoyable in their own right, and you should really not miss the opportunity to play them! We have now told you everything we wanted to tell you about this page full of awesome games, so the next thing you have to do is start playing them and see yourself just how great they are! Do not also hesitate to tell your friends about our Rolling with the Ronks Games, since we are sure that they would love the chance to play them as well, and they will not regret making this decision at all!