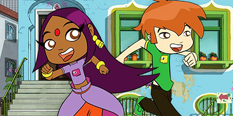 Sally Bollywood Games
🤔 What are Sally Bollywood Games?
Sally Bollywood Games is one of the latest games categories on our website, where you can help Sally Bollywood, high-school private investigator, solve all kinds of mysteries. You will never get bored playing Sally Bollywood Games, so you should start to play them right away!
Sally Bollywood Games
If you love detective stories, but also love indian culture, then the Sally Bollywood Games category on GamesZap.com is a category which you have to check out, because here you are going to be able to find and play Sally Bollywood Games which manage to combine both these elements, in a series of very fun games which can't be missed! Not all the categories on our website are based on cartoons from the most popular cartoon channels, and not all of them come from the United States, because our administrative team wants to be able to offer on our website games for children all around the world. We tell you this because the series is a french-australian made series, which has in the center an indian female character, so one thing that the Sally Bollywood Super Detective Games category does not miss is diversity. By reading this description to the end, you are going to learn more things about the Sally Bollywood Games category, because we are aware that this show has not been aired all around the world yet, so some of those who are reading this would like to find out more about it before they start playing the Sally Bollywood Games here. Sally is the main character of the show, and she is a indian girl who lives in the city known as Cosmopolis. This is one of the best cities ever, because it has people of many nationalities gathered in it, making it one of the most diverse cities ever, which makes for more fun for Sally and everyone in the city. As you may have figured out already, she is a private detective, and the reason for that is because her father also has a private detective firm, and she was inspired by him. Still, she does not have his facilities, but instead has her office in the basement of the house. She is not alone in her ventures of solving mysteries around the town. She is joined by her best friend, named Doowee McAdam. With her investigation skills and his knowlade of technology, the two best friends make a great team ready to tackle any job they get from usually they school-mates, and they always get the case solved. With a premise as interesting as this one, we are sure that you got curious about the very fun and exciting Sally Bollywood Games on GamesZap.com. Here, you will be able to play games where you will play the role of Sally or other characters, and go around Cosmopolis solving crimes and having all kinds of fun adventures! So, don't wait any more, and start playing Sally Bollywood Games on our website right away! Also, you can also invite your friends on GamesZap.com so they can also find these Sally Bollywood Games and more, and we are sure they will never look back! We wish you good luck playing Sally Bollywood Games, and remind you to never give up in your investigation, because the truth will be revealed, together with Sally Bollywood!