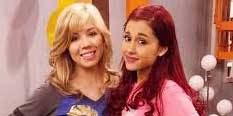 Sam and Cat Games
🤔 What are Sam and Cat Games?
Sam and Cat Games is a category of Nickelodeon Games which combines iCarly Games with Victorious Games, two really popular categories on their own, so for anything in the world you should not miss the chance to play these games! You are guaranteed to have a lot of fun, so start the game right now, and let the fun begin!
Sam and Cat Games
Welcome to the Sam and Cat Games category, a category of Nickelodeon Games which is a combination of iCarly Games and Victorious Games, which are already two really popular categories on our website, based on even more popular television shows which aired on Nickelodeon roughly about the same time, and they have become really popular on the network, so you can imagine that when in 2013, a spin-off which combines both of the series together has been announced, it has made a lot of children and teenagers all over the world happy, since they could continue to see the adventures of some of their favorite characters, even if not all of them, in a new form, since by that time both iCarly and Victorious stopped running. It was kind of disappointing that the series only lasted for one season, from 2013 to 2014, which is the reason why there are so few Sam and Cat Games available at the moment, but the ones that are available we have made sure to bring them to you on our website, so you do not need to look anywhere else for such games, because we have made sure to include the complete collection of games. So, if you are a fan of any of these two shows, you are definitely invited to play Sam and Cat Games, even if you have not seen Sam & Cat before. If by any chance you want to know more things about the show before you start playing the games on this page, you do not need to worry at all, because we are going to give you more details right now, so pay attention. Well, iCarly and Victorious have been two long-running live-action shows from Nickelodeon, which both ran about the same time, and they have crossed over several times. Two of the main characters in both shows, Sam from iCarly, and Cat from Victorious had really good on-screen chemistry, which is why a spin-off show featuring both of the girls was produced after the two series they starred in ended. The show only ran for one season because both Ariana Grande and Jannet McCurdy wanted to pursue other things in their carreers, and ever since then they have both been doing really well, so we cannot blame them for that decision. In it's short run, it was still a really enjoyable show. What was it about? Well, you are going to find out right now, and we are sure that after you read what the show is about, you will want to play Sam and Cat Games as soon as you can. Since the finale of iCarly, Sam has been going around the country with her motorcyle, and one day she sees Cat getting kidnapped and thrown into the back of a van. The two then become friends, and Cat convinces Sam to move together, after Cat's grandmother Noona moves to a retirment home, so they will get to stay in her apartment. Just like any young girls, they want to have a job, so the two decide to be self-employed, and together they form a babysitting agency, which gets them into all sorts of situations, from where we see their comical adventures. New characters from the show include Dice, their neighbor who is known for helping people in exchange for money, and Goomer, who is a pretty stupid MMA fighter who is managed by Dice. Together, the gang has all sorts of crazy adventures, one more interesting than the other, and you can never get bored watching them. You can also never get bored playing Sam and Cat Games as well, about which we are going to tell you more things right now, so make sure you pay attention to these following lines in the description! In the category you will be able to find classic games such as bejeweled games with candy, hidden objects games, quiz games, or differences games, and you can trust us when we say that no matter which games you choose to play from this page, you are going to have an excellent time doing it, which was definitely the case for us when we played these games! Honestly, there are not too many things that we can tell you about this category of Sam and Cat Games, so we can only invite you to start playing the games right now, and maybe also visit the iCarly Games and Victorious Games categories as well, since you are bound to find some really fun games for you to play in them as well, with even more of your favorite characters! Well, the fun is just one click away, so choose any games from this page right now, and we are positive that you are going to have a fantastic time, only on our website!