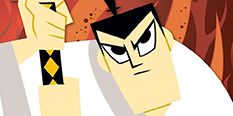 Samurai Jack Games
🤔 What are Samurai Jack Games?
A Samurai Jack Games category of games is definitely amazing addition to our series of Cartoon Network Games, where you are going to find one after the other awesome game, where you join Jack in his amazing adventure in the future, where he has to defeat the demonic Aku. Join the fun of Samurai Jack Games, and you will not look back!
Samurai Jack Games
A Samurai Jack Games category on our website was needed because the show is back on television, so Cartoon Network Games fans can rejoice, as Samurai Jack Games are back in style, and something tells us that all of our visitors are going to be very satisfied with the games that they get to play here, as we have made sure to bring all of the available games based upon this show on this page, so trust us when we say that you need to look no further for these games, as you are in the right place! 2017 was really an amazing year when it came to television, with a lot of series returning, Samurai Jack being one of them, which was even more special than others. Why? Well, first of all, the show was aired on Adult Swim, the block from Cartoon Network which features shows aimed towards an older generation, from teenagers onwards, as it had a more dark and mature tone, which was present in the first four seasons as well, but more in this one. Like we have said, prior to this season, the show had four seasons before, which did not manage to conclude the story of Samurai Jack, starting in 2001 and finishing in 2004, without the series concluding the series, which is why this revival was so needed for the franchise. Thirteen years later, but still, it was an awesome event, and something which we are sure that fans of the show have been very glad about, since the show was beloved not only in the US, but in all other countries that it aired, so the revival has made a lot of people happy that we finally got to see the ending to Samurai Jack's story. Of course, some of you still want to hang on to it, which is where this category of Samurai Jack Games on our website comes in handy, since by playing the games on this page you can remain in this amazing world, and be Jack yourself, fighting against any evil doers that he has to defeat, and having amazing adventures, which is only possible on our website, believe us when we say that! You should not miss your chance to play Samurai Jack Games, even if you have never seen the show before, and if that is the case, we are inviting you to read about it from this next part of the description, which explains the premise of the show, and after we are done telling you about that, we are going to also tell you what kinds of Samurai Jack Games are going to be available to you on this page, and we are sure you will be glad with them! The show follows a young prince from feudal Japan, who is entrusted with a sword by his father which is able to defeat the demonic Aku, who, a few years later manages to escape. The son is sent to the world to travel and train, and upon his coming back, he faces off with Aku, whom he almost defeats, but Aku manages to send him into the future, so that he will deal with him later. Arriving in the future, the prince is named Jack by people, which he then uses as his name, and travels the world seeking for Haku, so that he can face off with him once again, and finally defeat him, which is even more important now, since the whole world is ruled by this evil demon. In the future, there are lot of future elements like robots, spaceships, flying cars, and aliens, creating a dystopian setting which has drawn in a lot of people to the show, and which has really made it an iconic animation. Now, as to the Samurai Jack Games that are available on this page for everyone to play for free, they consist mainly of action games and adventure games, where you train your samurai skills, and fight off with all sorts of villains from the show, although more simpler games like coloring games can also be found here, so it is going to be pretty diverse, and we are sure that you are going to have fun no matter which games from it you choose to give a chance to. Now that we have told you everything we wanted to about this category of games, it is time for you to start playing them right away, and having a great time, and if that is the case, do not hesistate to also tell all of your friends that on GamesZap.com they can find really awesome Samurai Jack Games to play, since they will surely be happy that they also get to enjoy the games, and have a tremendous time.