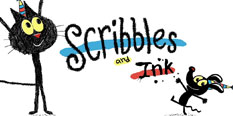 Scribbles and Ink Games
🤔 What are Scribbles and Ink Games?
The best online interactive drawing experience is now being offered to you on Friv by the amazing new Scribbles and Ink Games that you can find and play on this page, one more interesting than the other!
Scribbles and Ink Games
When it comes to categories of PBS Kids Games, based on the many amazing children's show that air on that public network, we have always made sure to bring you the latest games based on their series, which is why if you love watching their shows, Friv Games Today became your go-to source for games based on them, and we now return with yet another new and exciting series of friv games, the Scribbles and Ink Games category, which we do not doubt at all you are going to welcome with open arms, as you do any great games we make sure to share here with you all the time! This animated series, like so many like it before, is based on a series of children's books, and because it is a series aimed at younger audiences, it is both an educational one as well as an entertaining one, with the main premise of it being interaction, since the show lets children interact with the drawings shown on their television in a fascinating new way. Scribbles and Ink are a duo of drawn animals, with one being a cat and the other one a mouse. These two animals are natural enemies, but not in this series, where they are best friends who have all sorts of interesting adventures in each episode of the show. They have fun even if it is raining outside, and sometimes they even go to space to have a great time. The awesome thing is that kids watch the TV and they are encouraged to draw things by the two characters, who then draw together with the children. The show is aimed more towards online audiences, still, because that way they get to interact with these characters more directly, making the experience a way better and interesting one. As kids interact more with the characters, so will the show and games based on it change, because it is an experiment when it comes to such interactive television programmes for kids, one that is set to evolve during the years. Now, you don't need to go to the original website, since you get to interact with these characters directly from our website, where we've added you the main game in the series, where you join these wonderful characters in drawing. Whatever your imagination tells you, or what the characters urge you to make, do it, and we're sure that you will not be bored in the least. What are you waiting for? Now you know all that you needed to know about this page and it's games, so you should be ready to step into this whole new and fascinating world, having fun like only here is possible, where fun never stops, because we bring you the best new games on the internet all the time. Because of that, make sure to come back here as often as possible, and you are always going to be pleasently surprised by what you find, such as you were with our category of friv Scribbles and Ink Games.