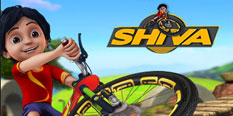 Shiva Games
🤔 What are Shiva Games?
On our website we have managed to gather the best Shiva Games on the internet, all of which we recommend that you play, since they are diverse, easy to understand and play, and of great quality! What are you waiting for, then? They are right in front of you, and you will not find such great Shiva Games on any other website you visit!
Shiva Games
We are very happy that now on our website we have the chance of offering you all Shiva Games, which is the newest category of Nickelodeon Games from India that we have created, where we have seen that there are a lot of original television series for the children there, and not only that, but just like with these Shiva Games, we have noticed that there are quite a few games made for each of these series, which means that when we create these categories, we add a lot of awesome content to our website, making it better and stronger than ever, and we have no doubt at all that you are all going to be very happy for that, because the main reason so many children visit our website daily is because here they are able to find the most awesome new games on the internet, and these games are not only new, but diverse as well, so that everyone is going to find games to their taste on our website. Adding these Shiva Games is also us making a step forward into making our website as international as possible, since we do not want to bring people here only from the United States, but from other English-speaking countries as well, like India, and even from countries where English is not the main language, since we have seen that almost every country has some kind of awesome original show for which there are amazing games. Now, if you are from India or another asian country which currently broadcasts this show, then we do not have to convince you to check out these games, as you will certainly do so without us telling you, since you know that you are guaranteed to have a lot of fun by doing so. Instead, if you have never before heard about Shiva Games or the show that they are based on, you might want to learn more about this world before you dwelve in it, and if that is the case, you only have to continue reading this description, because in the next part of it we are going to tell you what the show is about, who are the main characters whom we see in it, and after that we will also tell you what kinds of games are going to be available on this page, and we are sure that after reading all this, you will immediately start playing the games and having fun! Shiva is a young boy from the fictional city of Vedas, who is not your avarage boy, since he is a super hero with supernatural powers. His city is often times attacked by all sorts of villains who try to do harm to the city and it's people, so Shiva steps in to fight these people off and defend his home. In fighting them, he is aided by his bycicle, with which he is able to fly and float on water. He is also not alone in his super hero adventures, as he is helped by his three friends, and a jenglot, which is very useful in combat. Of course, after the villain has been defeated, the authorities step in to arrest the evil-doer, and Shiva and his friends are recompensated by the leadership of the city, for their bravery and their willignes to help. That's the premise of the show, and we find it very interesting, which we hope you do as well! Now that we have gotten that out of the way, we are going to get to the next topic of interest, and probably the most important, which is the Shiva Games you will be able to find and play on this page for free. The category is a diverse one, as it contains adventure games, bicycle games, memory games, skill games, maze games, action games, chess games, and many others, so we are sure that all those who are visiting this page are going to be able to find some games that fit their tastes and they like, and they will be having fun from beginnig to end with each of the games on this page! Well, with that, we have told you everything that we wanted to tell you about the Shiva Games category on the page of which you find yourself right now, so hopefully, with what we have told you here, we have convinced you taht it is worth your time to play these games, and that is going to be the thing that you are going to do immediately. Of course, you will at one point finish playing these games, since their number is limited, and when that happens, we invite you to visit the many other categories that we have on our website, all of which are full with one great game after the other!