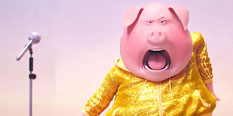 Sing Games
🤔 What are Sing Games?
We invite you all to start playing Sing Games on our website right now, because we have done our best in order to gather up the best games based on this movie, right on this page. Trust us, Sing Movie Games are really worth it, so wast no time at all, but start playing them right now, only on www.GamesZap.com!
Sing Games
On GamesZap.com, you now have the chance to discover and play Sing Games, which is one of the latest categories of games that we have created for our website, where we are trying our best to diversify our content, in order to make sure that our visitors are satisfied with the wonderful games that they are able to find on our website. We belive that the games from this category are definitely going to satisfy them, just like we belive that Sing is going to be one of the most popular animated movies from this end of the year. The film is going to have it's premiere in December, so it comes in time for Christmas, which is only fitting for a film full of music and joy, which are two main traits of this holiday. Animated movies with animals and music always manage to make children be happy, smile, and have a good time, which we belive to be the recipe for succes. On GamesZap.com, we don't offer movies, as we offer something even better, online games, in which you get to interact with your favorite characters from those movies directly, which is what is going to happen with the Sing Games on our website as well. If you have seen the trailers for the movie, then you probably have a pretty good ideea about the movie, and you have probably already begun playing the Sing Movie Games on this page. On the other hand, others, who may not be so familiar with this film, keep reading this description in order to find out more about the film and the category. Well, luckily for them, we made sure to create this description, and to fill it with important information, not only about the plot and characters of the film, but also about the wonderful Sing Games that you are all able to play on our website, any day, any time, and always for free! We are going to start with the plot and the characters, and continue with more details about the game, so keep reading! The world of the movie is one of talking animals, in which Buster Moon is a koala who is doing his best to keep his theater working, because it is on the brink of closing down. He and his sheep friend Eddie make a singing contest to raise money, and the whole town ends up auditioning for a part in the show. The ones that win and take the five lead roles are some really interesting characters, which we are now going to describe: first, we have Rosita, a really hard-working pig together with her pig partner, Gunther. Mike is an arrogant white mouse who loves to gamble, Ash is a punk-rock porcupine, Meena is a timid teenage elephant, and last but not least, we have Johnny, a british gorilla, who wants to sing instead of taking up his family's life of crime. With these awesome characters you will be able to play amazing Sing Games, which can be differences games, hidden numbers games, puzzle games, and many other formats. We are sure you will love our Sing Games, so start playing them right now, only on GamesZap.com!