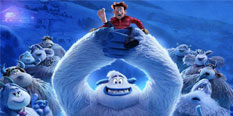 Smallfoot Games
🤔 What are Smallfoot Games?
It is now with great excitement that we invite you to the Smallfoot Games category, since we have been the first website to have created it, so you are guaranteed to have a fresh and new experience, one to really enjoy, just like we have had, because we believe that each and every game of this page is worth everyone's time!
Smallfoot Games
Everyone from our website is now invited to check out the Smallfoot Games category, which is a brand new category of games we are very happy to have created here, as we know that it is going to be very soon that this movie is going to start running in theaters, and when that moment comes, there are going to be lots and lots of children from all over the world searching the internet for Smallfoot Games online, and surely the first place they are going to get to is our website, since we have been the first one to create this category for its visitors. That should not be surprising at all, because when it comes to new series and movies, we have always been the first ones to bring content for them, which is why slowly but surely we have become the number one website to visit when it comes to online games for children. Now, we know that there are many children who go to cinemas to see the latest animated projects, and we do not know of any other one running this month, so we expect kids to go see this one, which is great, since there have not been any movies or show featuring Big Foot in quite a while, so it is going to certainly be an amazing adventure for everyone watching. You know what will be even better? Playing Smallfoot Games, because that way you can enter the world yourself, and have a great time in it like you should! Now, if you have come to this page because you have already seen the movie, you know that you are here to play these games, which is what we hope you are going to do straight away. Now, the other ones, the ones who have come here and know nothing about this movie, might want to learn more about it, and if that is the case, worry not, as everything you need to know about it is going to be written in this description, from the plot, to the characters, and of course, we are also going to tell you what kinds of bigfoot games you are going to be able to play here, and surely you are going to have a great time here, and never look back, even for a second! As you know, everyone believes that the Yeti is a myth, stuff of legends, and they do not actually exist. Well, so do the Yeti in this movie, who believe that humans, also called smallfoots, do not exist. Well, that all changes when a bigfoot by the name Migo, and his other big foot friends discover Percy Patterson, a former television personality. Migo is a scientist determined to find the existence of humans, while Percy is trying to get back into the spotlight. We also have characters such as Meechee, a yeti that believes in the existence of humans, Stonekeeper, who do not trust us and is the chief of the tribe, and other characters, of course, both on the human and big foot sign. Well, that is everything that we had to reveal regarding the plot and characters of this show, so now that you know all this nothing should be stopping you from starting to have fun with these games at once. What kinds of games? Well, the Smallfoot Games category is going to include all sorts of them, such as hidden objects games, skill games, adventure games, and more, so no doubt about it, no matter what your tastes in online games are, where you come from, what your age is, or if you are a boy or a girl, you are guaranteed to find games you like here, and have fun with them like only here is possible. With that being said, what we wanted you to know regarding the Smallfoot Games category on our website has been said, and we really hope that this is the next of our friv categories that you decide to check its games out, and no doubt about it you are going to have a tremendous time, just like we have had, with each and every game here. When you are done with this page, make sure that you do not leave our website, since we have hundreds of other categories here, all of them filled with brilliant games for you to try out, and if you want to keep on having fun for as long as possible, our website is the place! Of course, we hope you won't keep this amazing place to yourself, but instead invite your friends over and show them what cool games they can also find and play here!