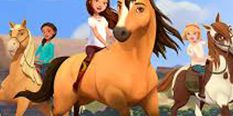 Spirit Riding Free Games
💡 Play similar online games!
🤔 What are Spirit Riding Free Games?
Play Spirit Riding Free Games here to get your fix of the wild west, nature, and riding horses, a fun activity you can do safely and in extraordinary ways with these amazing characters from Netflix!
📂 Related Categories

Animal
Spirit Riding Free Games
One of the best-animated series to be streamed all over the world on Netflix is Spirit Riding Free, an animated show created as a spin-off from the Oscar-nominated movie called Spirit: Stallion of the Cimarron, one of the best animations to have come out in 2001, and now, more than two decades later, the characters have been brought back in this new show, which has run for six seasons as of now, with a seventh being planned for Fall 2020, and there is going to be even a feature film created for it, expanding the franchise even more.

If the show had not been a hit, trust us when we say that so many episodes would not have been produced, and since there are so many fans who love watching these characters and their adventures on-screen, it was natural that a bunch of online Spirit Riding Free Games would appear as well, games that you can now find and play for free here, where we have set up the best collection of games based on the show, just for you, waiting for you to let the fun begin right away!
The story of Spirit Riding Free
Miradero is a small town on the border, and the magical setting of this show, where we follow our main character, a 12-year-old girl by the name of Lucky, which is rather her nickname, as her full name is Fortuna Esperanza Navarro Prescott, who just moved to this new city, so she has a whole new world to discover, new friends, to make, and all sorts of exciting new adventures to have and from which to learn, together with Spirit, the white mustang horse that she encountered upon coming here, and who has become her best friend, instantly.

Spirit used to be a wild horse until wranglers caught him and brought him to the city to break the horse, which means they want to domesticate it, although it is not always a nice process. Luckily for the horse, as soon as he meets Lucky, they become instant friends and a great bond develops between the human girl and the horse, and she frees him.

Through the daily adventures that Lucky and Spirit have through Miadero and its surroundings, they are not alone but joined by the first two friends that Lucky made here, Pru Granger, who has a horse called Chica Linda, and Abigail Stone, who also has a horse, by the name of Boomerang. The name of the three girls can be given the acronym of P.A.L, and so they are called PAL's by the viewers of the show, who see their countless adventures on the screen, and learn valuable lessons while being entertained!

The characters in our Spirit Riding Free Games
Through all of the games with Spirit Riding Free that you are going to play here, you are going to join the main three characters on different adventures, so we're positive you want to learn more about their individual characteristics and quirks so that it is a better experience to play games with them, something that you will be able to find out right now since we want to immerse you in the world as much as possible and make sure you have the best gaming experience with Spirit and his friends!

Lucky is the main character we follow, and her father works in railroad development, while her mother is a circus performer. She is always down for an adventure, she has a lot of courage and cares deeply for her horse, friends, and family. Spirit is the son of the character with the same name in the original movie, and he alternates between his call for the wild, which is ingrained in him, as he would like to spend time with herds of wild horses, while he loves Lucky a lot and wants to be with her too.

Pru, another one of the three PALs, has an ability in training horses, which she learned from her parents, and has quite a competitive nature, and is very confident in herself and her own abilities. Her horse, Chica Linda, is a palomino horse, the only one of the main three horses who is a girl and has quite the sassy personality.

Abigail, a small blonde girl who can be quite naive at times and has not traveled much is the deuteragonist of the bunch, and while she can be one of the kindest people ever. She has a horse called Boomerang, a paint horse in white and brown is the strongest of the three horses, and knows how to dance, thanks to his owner.

Free Spirit Riding Free Games to play
When it comes to the games you are able to find and play here, considering the nature of the show and its setting, it was only natural that horse-riding games can be found here quite a lot, where Lucky and her friends invite you to hop on their trusty horses. Obviously, horse racing games are also going to be found here, because riding a horse freely and slowly is fun, but it is even more fun when the stakes are high, and you try to give your best to be faster than the other horses you are competing against.

Go for a ride with the horses, play together with a friend in two-player horse games such as Spirit Rhythm, where you also have a lot of awesome musical elements, play horse coloring games where you take Spirit, Chica Linda, and Boomerang, coloring them in ways that are different from what they look in the show, take a horse and raise it from a young age until it is a healthy adult horse, play around the farms, and go for rides with your favorite horses in animation ever, like only with our free Spirit Games online you can!

Conclusion
The many fans of horse games we have here can now find and play the best of them, our Spirit Riding Free Games online, which are based on the show with the same name which gives us one of the most iconic horses in kids media, and together with the young stallion, his best human friend, Lucky, you are about to have fun riding horses and exploring the wild west, the people living there, and the wilderness with all of its animals, in fun and exciting free online games for kids like only here you can experience!