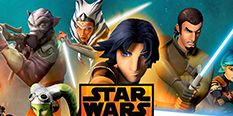 Star Wars Rebels Games
💡 Play similar online games!
🤔 What are Star Wars Rebels Games?
We have made sure to bring you the best Star Wars Rebels Games available, since we know that Star Wars Games are beloved on our website, and since this show was such a hit, we are sure these ones will be as well! Browse through these Star Wars Rebels Games right now, find something to your liking, and let the fun begin!
📂 Related Categories

Young Jedi Adventures
Star Wars Rebels Games
Star Wars Rebels Games is our newest category of Star Wars Games and Disney XD Games, which we are sure that all the visitors of our website are going to enjoy a lot, since the show that it is based upon, Star Wars Rebels, and which aired for a total of four seasons on Disney XD, starting in 2014 and ending in 2017, was the first animated series from the franchise produced and aire by Disney, and it has been a real hit, as it was beloved by many people all over the world, and it's episodes usually had up to and even more than one milion viewers, so it was one of the most popular shows on the network. Still, every story has to end some time, and if the writers and creators of the show felt that they have told everything that they wanted to tell, we are glad that we got to see such an amazing series, and we are also glad that so many awesome online Star Wars Rebels Games have been created for it, games which we can now finally distribute to everyone on our website as well since we are sure that our visitors also want to play these games. Of course, we already had a category of Star Wars Games, but we thought that for a series such as popular as this one, which is also pretty recent, and which will be on re-run in the future for sure, we thought that creating a separate category would be better for people to find the games more easier. Of course, if you visit the Star Wars Games category, you will also find all of these Star Wars Rebels Games as well, and we are sure that after you are done playing the games from this category, you will have gotten a taste for the Star Wars universe, and to satisfy that need, you will be able to find many more amazing games on that page, based on the many other parts of this ever-expanding franchise. We are now going to go into more details about the story, since we are sure that some of you might not have seen the show before, and if that is the case, reading this will tell you everything you need to know, not only about the show, but about our wonderful Star Wars Rebels Games as well, of course! Firstly, you need to know that this show is set between Episode Three, and Episode Four, meaning it is a prequel to the original trilogy, and a sequel to the prequel trilogy. The really fun thing about that is that the show manages to bring characters from both of these time frames into the show, as the stories are connected to the larger Star Wars universe, which we also see in the movies, with some characters from this show having already been in the Star Wars Rogue One movie. The show follows Ezra Bridger, who is the leader of a group of rebels, who have united on board of Ghost, a freighter starship, and their mission is to do all sorts of covert missions against the Empire, around the planet Lothal, but in many other places of the galaxy as well. A very interesting story, don't you agree? Well, not only are the stories in the show great, but so are our Star Wars Rebels Games. In these games you will be able to board the Ghost and take part in the different missions of the team, doing your best to help the Rebels fight the Evil Empire. That is why most of the games are action games, adventure games, skill games, but other formats may appear from time to time, as we are trying to make the category as diverse as possible. What is clear though is the fact that we will make sure that we have gathered all of the available Star Wars Rebels Games, so that you will not have to look anywehere else for more gmaes based on the show, since all of them are going to be available for free play on our website! Well, with everything that we have written here, we really hope that we have convinced you of trying these games out, and that the next thing you do is going to be exactly that! Remember to tell all of your friends as well that only on GamesZap.com they can find and play the best and most awesome Star Wars Rebels Games on the internet, because we are sure they want to have fun as well! When you are done playing the games, check out the many other categories we have here, as we are sure that you will find something new and awesome to play in no time at all!