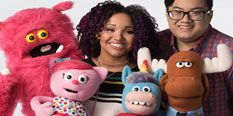 Studio K Games
🤔 What are Studio K Games?
Only on Friv Games Today you can now find the Studio K Games category, one of the latest ones from our website, where a really fun time is going to await you with some of the most lovely puppets in the entire world, so you should have no reason at all not to start having fun with them immediately!
Studio K Games
We are now presenting to you all one of the most unique and recent categories of games created for our website, the Studio K Games category, which is the third category of games that we brought over from Canada in one day, as we have recently looked towards the many television series that are there and are awesome, and thought that it would be great if we would bring you games based upon it in other parts of the world as well, because many of them are only available in that country, and you can't access them. Well, that will not be a problem when it comes to our website, and that applies to the Studio K Games category as well, which is different from most other categories we have here for a unique reason, one about which we are going to talk right now, in order to get you informed on what you need to know. Well, while most of the categories we have here are based upon television shows, we also have a few categories that are based upon television networks for children, which they have all of the games that are based on shows airing there. Well, Studio K Games is both of them at the same time, since the games that you can find here are based around the interstitial programming of Knowledge Kids, which is the network that airs them, and feature original characters that have been made especially for this network. All of the clips with these characters are then gathered together in an original show called Studio K, and with each of the characters there have also been Studio K Games made, and we are very happy to present them to you all, especially since we have been the first ones to do so, proving why our website is the best! Well, in this following part of the article we are going to get you more familiar with the characters, as well as the awesome games that you can play with them here, so we are sure that by the time you finish reading this article, the only thing you will want to do will be to have fun with these awesome games! First of all, know that these characters are all puppets, which shows us another reason children love them so much. Each of the characters has different personalities and interests, and in each new short they do another type of activity, and the shorts usually focus on one character at a time, since it is more simple to do so in a short period of time. Cottonball is a cat who is also a pop star at the same time, and she is always confident and wants everyone to have success and shine, just like her. She is featured in the lovely game called Cottonball's Yarn Party. Mr. Orlando is the security guard at CBC, a moose puppet who takes everything seriously and likes things to be in order, peace, and quiet. The game you play with him is an awesome hidden object game called Find My Pen. We then have Putter, who is an animated screen and A.I. that controls everything from the shadows and makes sure that everything is available for the characters to have fun. Gary is an intern in the building, a unicorn that knows and loves to tap dance, who is always positive and is ready to help whenever he can. His game is called Gary's Magic Marbles. There is also a game that brings together all of these characters you love, as well as the two human hosts of the show, Janaye and Tony, a game we highly recommend to everyone, by the name of Studio K Face Race! Well, now that we have introduced you so well into the world of these characters and the games you can play with them, we are sure that nothing is going to hold you back from doing so at once, and having fun like only here is possible, no? Well, you should definitely check them out, as we are sure that you will not get bored playing them even for a second! We also hope you don't stop at Studio K Games either, but instead, check out the hundreds of other great categories we have put at your disposal over time, and in no time at all, you will find something you love and be able to continue having fun here for as long as you desire! Start now, and have a blast, only on Friv Games Today!