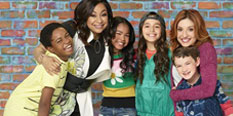 That's So Raven Games
🤔 What are That's So Raven Games?
If you want to know where the best place on the internet to play That's So Raven Games is, then you can be happy because the answer is right here, our website, where you can see we have added awesome games based on the series. It's definitely worth your time playing That's So Raven Games, so do it right now!
That's So Raven Games
We here at GamesZap.com pride ourselves in the fact that on our website, all visitors get to find something to play to their liking, as we are always creating new categories for the website, making sure it never stays dull, and new games are added every day, to the enjoynment of so many of you. To be able to bring you so many awesome games, we need to create categories, and we do not only create categories based on the newest shows airing on television, or just the ones that are currently airing, but we look towards older series as well, like we are proving to you all right now, with the addition of the That's So Raven Games category. This is a new category of Disney Channel Games, and since we know for a fact that categories based upon shows on this channel are usually very popular, even if they are based on shows currently not airing, we have no doubt at all that the same is going to be true for this one as well, and even more so than others, since after the release of Raven's Home, we have no doubt at all that the interest in our That's So Raven Games is going to increase a lot. What is Raven's Home? Well, have you not heard the news? Raven is going to be back on television with another series for Disney Channel, the sequel of That's So Raven, which is going to be entitled Raven's Home, and when the time comes for the series to start airing, you can count on us to bring you the category of Raven's Home Games as well, which is also going to include the games from this one, and vice-versa! But, of course, this is still the That's So Raven Games page, so we are going to continue this description by telling you things about this series, which we are sure that younger children will especially want to know about. That is because the show has aired from 2003 to 2007, so most of you have not caught the show on tv back then, or maybe you have never seen it at all. Of course, if you are somewhat older, or have managed to see the show, then you should just simply jump straight to playing our That's So Raven Games, and letting the fun begin! For the rest of us, stick with us a little longer, and we are certain that after you are done reading all of these things, you will be wasting no time at all in starting to play the games, and having fun on our website! We are now going to tell you the premise of the show, and after that, we will tell you about what kinds of games are available on this page, since we are certain that is your main point of interest for reading this description. The show follows the adventures of a girl named Raven, as you may have realized, who has a special ability, which sometimes gives her an advantage, and sometimes is a problem. When she is in a deep situation, she gets a psychic vision of future events. It's an amazing ability, which sometimes really helps her get out of different problems she may have as a teenager. Of course, in making these visions a reality, all sorts of funny stuff happen all around Raven, but not only, as her family and friends are also mixed up in all of this, making for some really funny episodes, but heartwarming as well, which is what we believe made the show such a hit. As to what kinds of That's So Raven Games you will be able to play on our website, so far, the category only includes one game, which is a dress up game, where you get the chance to make Raven look however you want to, and trust us, with the clothes that you have at your disposal in that game, we are sure you are going to be satisfied with the game. You should not be upset that there is only one game at the moment, since we have no doubt that once the spin-off/sequel series is going to be a succes, and like with any new show that starts airing on the network, this one is going to be watched by countless of people, and new games based on it are going to appear. Well, that was all we had about the That's So Raven Games category, so we can only invite you once again to start playing this game, and have a blast doing so! Do not forget to also tell your friends about these That's So Raven Games, because we are sure that they would also like to have fun playing them, without a doubt!