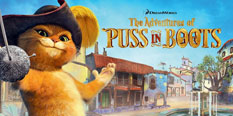 The Adventures of Puss in Boots Games
🤔 What are The Adventures of Puss in Boots Games?
It is with great pleasure that we can now invite you all over to the The Adventures of Puss in Boots Games category, which is a category of Shrek Games we are very happy to have created, as there is lots of awesome content for you to find here! There is lots of it, so start browsing the page right now, and let the fun begin by picking a game and playing it!
The Adventures of Puss in Boots Games
We are very happy whenever we can bring you an amazing category on our website, just like we are doing right now with The Adventures of Puss in Boots Games, which is a category of games we have been meaning to create for our website a long time now, and in which we are going to be doing our best to provide you with all the great games that are based upon this show, which we are sure is popular all over the world. Why? Well, it is distributed by Netflix, which is world-wide at the moment, so we are sure that children from everywhere are discovering it, in addition to the fact that it is syndicated on many television channels everywhere. When a show is available to lots of children, it means that the fans of it also want to play games based on their favorite show, which they have and always will be able to do on our website, where we are always in the pursuit of bringing them awesome content. Another reason why we believe that The Adventures of Puss in Boots Games is going to be a popular category is because this character has been around way before his television show, and we are sure that you all know what we are talking about. Puss in Boots is a character from the series of animated movies Shrek, of which there have been three already, all hugely popular animated films which have been released world-wide. When such movies are popular, it is often times that there are animated spin-off television shows created for them, and for Shrek, it was The Adventures of Puss in Boots, which started in 2015, had sixth seasons, and ended in 2018. Despite the fact that new episodes are not being made, we know for sure these characters are being discovered all the time, and there are more and more children wanting to play these games! If you are already fans of it, we are positive that you are going to be wasting no time at all, but start to play friv Puss in Boots Games/Shrek Games on our website immediately! For those of you who are not aware of this series, so you would want to learn more about it before you get on to playing the games, we invite you to read the following part of this description, and from it what the show is about, who are the characters, and in the end, also find out what kinds of games are available here, which we are sure will make you want to try them out immediately! Puss in Boots is a male cat, who is also a sword fighter, who was introduced in the Shrek movies, as a friend to the main cast of characters. He is charismatic, brave, and smart, but also often times still acts like cats do, so if you are a rat, you should definitely not get in his way. In the show, we see him trying his best to protect the previously hidden city of San Lorenzo. From what? Well, from invaders. Why is the city no longer safe? Well, actually, it is the fault of Puss in Boots. His crazy antics is what resulted in the spell that was protecting the city to be broken, and now there are many who have interested in taking over the land. But that will not be so easy for them, since Puss is there to protect everyone, and try his best to find a way to bring back the spell, and hide the city once more! Now that we have told you what the show is about, it is time to tell you what kinds of The Adventures of Puss in Boots Games you can play here, right? Catch the Thief and Trials of the Hourglass are the two main games you should be checking out, with the category being bigger and more diverse though, including action games, adventure games, dress up games, puzzle games, skill games, matching games, memory games, coloring games, differences games, and more! No matter what your tastes in online games are, chances are very high that you are going to find at least one, if not more games to your liking on this page! Now, since we have told you everything that we wanted you to know about this category of The Adventures of Puss in Boots Games, the only thing left for you to do is to start the games at once, and see for yourself how much fun they are! Of course, we want to invite you to try out the many other categories on our website, of which we have hundreds of, in order to keep on having fun here for as long as you want to!