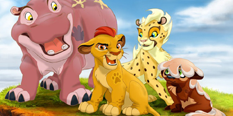 The Lion Guard Games
🤔 What are The Lion Guard Games?
If you like animals from savanna, you will love this new category where you will find lions, hippopotamus, honey badgers, warthogs, and others. Come with us and find many informations about some great animals like Kion, Simba, Timon, Pumbaa, Bunga and others!
The Lion Guard Games
Welcome back my favorite players to our new presentation of The Lion Guard games category from GamesZap.com! I'm sure that you know this show if you are 18+ because when I was a little boy one of my favorite cartoon shows were Lion Guard, but now we have a new and more good show named The Lion Guard and The lion Guard: Return of the Roar. It seems that this show will have the premier on January 15 2016 on Disney Junior. If you are a big fan of adventure, Kion, Simba and Nala, you will be very happy to find that we prepared for you the best and the newst games for kids! In The Lion Guard Games we will learn how to use our unique ability because each of us possess an innate ability that helps him all the life. Here we will follow a great adventure with a new guard consisting of various animals from the kingdom. If you where thinking that The Lion Guard will be only just with lions, you will be very surprised to know that here you will see some new animals that will help Simba to control and defend all the animals that he loves. The great African Savanna is full of animals and the majority of them are just very kind and peacefull, but we have some animals like hiennas that just love to kill and harm everyone else. In The Lion Guard Games you will play with all the characters from the show and on Disney Junior you can watch all the episodes where the new guard will try to solve the problems from Savanna and try to mantain a good balance in the Circle of Life. If you will think that this unique show is not for your kids, think again because here the little boys and the little girls will find out a big ammount of new names for different animals, and they will learn some good informations about them. Gamers and Players, don't forget that here you will find each day new games with your favorite characters from this new Disney Junior show! Don't forget how playfull are this animals and come again for a good and fun playing! Belong to The Lion Guard a new short educational series will start in 9 January named It's UnBungalievable! where you will find interesting things about animal species. Here you will have to play and watch Bunga and Ono. You may want to know more about the past of The Lion Guard, but in the future we will do that too, but until then I'm just saying that The Lion Guard it's a second show based on The Lion King. When this new show was released on Disney Junior some new books arrived too, like: Kion, Bunga's Big Adventure, Can't Wait To be Queen, Pride of the Pridelands and my favirote Meet The New Guard. We have a book for little kids too named Kion's Animal Alphabet where you kid will learn the alphabet very easy with different characters from the show. Ok, now we will try to talk a little bit about the characters from The Lion Guard show and games. The first it's Kion, the main character, a young lion with a great father Simba and an amazing mother Nala. He is the youngest brother of Kiara and like i said is the main protagonist of the show. He is a very smart lion, a playful one but brave and mature in the same time. He just love to go in adventures and play with his friends, that's when he is not occupied with his Prince occupations because he is the Prince of The Pride Lands and of course the Leader of the Lion Guard. You may know Simba from others show, but he is the king of jungle, he is brave, smart, big, powerfull and a great warrior. He is the father of Kion and Kiara. The beautiful queen of the pride lands is Nala, a powerful lion that. Kiara have someting from she's parents, the curiosity that many times got she in some seriously problems, but due her experience she manage to get out and resolve all she's problemes. Rafiki is one of the oldest babuine from the movie, and it's a great character, wise, brave, friendly and mystical. We go now to the new character of the show and Zazu is the first. He is a majordomo for Mufasa, Scar and Simba. We have many characters here like Timo and Pumba, to good friends that you know from others shows and they are the adoptive uncle of Bunga. Bunga is part of Lion Guard and he is the bravest being a honey badger. Mufasa is the fater of Simba and here he will appear like a spirit that will guide Kion and other characters throw their lifes. Fuli is a cheetha, a very fast one. He is a very important character of the Lion Guard because his speed. Beshte is a big hippopotamus that is very strong. Ono is a egret that is Lion Guard's character too. At The Lion Guard Games you will find more characters like Ono, Mzingo, Zuri, Tiifu, Janja, Cheezi, Chungu, Makuu, Pua, Basi, Reirei, Jasiri, Ushari, Kovu, Nuka, Vitani and many others. If you are a good player you will manage to finish all of our games including the originals games from Disney. Play The Lion Guard Games and don't forget that you played on GamesZap.com, the best!