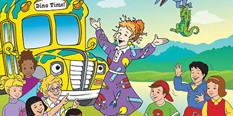 The Magic School Bus Games
🤔 What are The Magic School Bus Games?
Now our website offers everyone on our website The Magic School Bus Games, games you can't find in many other places. We have games based on the old series, but also The Magic School Bus Rides Again Games, for all those of you who love this new reboot series. Whichever games you choose to play, you will certainly love them, so start playing them right now!
The Magic School Bus Games
Once again, we are taking our fans by surprise and adding another new category of games for all of you to discover and have lots of fun playing the games in it, the category we are talking about being called The Magic School Bus Games, and it is one which we are sure you can't find on many other websites, which is one of the reasons why we were so eager to create it for our website, and make sure that we share these The Magic School Bus Games with you as soon as we could. This category, like many of the latest categories we have created recently on our website, is a category of games which is based upon an animated show which has aired quite a long time ago, so we are certain that many of you who are young are not familiar with the series at all, but maybe your older brother and sisters are, or maybe even your parents. Still, that does not matter at all. It is actually great, because that means that our website has diversity, and you can never get bored on it, since we provide games that you have never heard about. That means that you will have experiences you never had before, which is something which we are sure many of you want. The Magic School Bus Games category is definitely going to be something else, just like the show has, so we put all of our faith in it. If you are a child who loves learning and having fun, and doing these two things at the same time, the you have now found a category for you. Of course, even if you are not into these things, we still recommend all of the games, since we are more than sure that you will discover something you like in them. Now, because we want you to check out these The Magic School Bus Games, we are going to start offering you some information about the show, it's origins, the different characters in it, because we believe that after you read about how awesome this show is, there is no way you won't be curious to start playing the games as soon as possible, and have a blast playing them. Like many animated series for children, this one has also started in the form of a book, which was then adapted into the animation television series that we grew to love. The animated series started airing in 1994 and ran through to 1997. Luckily for all the fans of the show, it was announced that a new series, entitled The Magic School Bus Rides Again is going to stream maybe sometimes in 2017 on Netflix, which is also one of the reasons why we have created this category, so that we will be able to share with you The Magic School Bus Rides Again Games, which we are sure you will look for after you watch the episodes. Just like with the original series, this one will have Ms Fizzle in the center of attention, which, at the time of the original series, was very important, since she was one of the few female hosts in television. Now, are you curious to know more about what the series revolves around? Then stick with us just a little bit more, because you are about to find out right now! Ms Fizzle is a teacher, who, to help her class learn about different things like the universe, the human body, or nature, does something that is really magical. She takes the whole class into the Magic School Bus, which gives them the opportunity to go to all of these amazing places. They could go to the past, they could visit the solar system, or even shrink as much as to enter a human body. It is a really fun and unique way to learn about things, which we know kids really loved during the run of the original series, so we are certain the same is going to be true for the new series as well. The Magic School Bus Games and The Magic School Bus Rides Again Games on our website are going to be as varied as possible, and we will tell you things about some of them right now, so pay attention! You will play space games, games with animals, matching games, and all sorts of fun and unique adventure games. The only way to see if you like playing The Magic School Bus Games or not is to play them, so we are inviting you to do so right away! Well, in the end, we want to thank you all for reading this description, which we hope has convinced you to try out our The Magic School Bus Rides Again Games, which we are sure you will enjoy greatly!