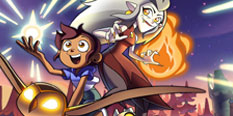 The Owl House Games
🤔 What are The Owl House Games?
The best place for you to find and play online The Owl House Games is the page on which you find yourself right now, as it is true with any other Disney Channel Games since Friv Games Today is the best place for you to enjoy these games!
The Owl House Games
It is with a lot of excitement that right now we get to present to everyone on Friv Games Today the new and awesome category of The Owl House Games. We've always had the best and most interesting categories of Disney Channel Games here, and whenever a new show starts airing on the network, and online games for browsers for it appear on the internet, we are among the first ones to share them with you, which is the reason why right now you all find yourselves on this page, because this is a show that started airing at the end of last year, and now, at the beginning of a new year, online games based upon it appeared on the internet, and so we created this page, waiting for you to have fun with all of its games. If you've already seen this show, it is most probable that you've become a fan and came here to play games with your new favorite characters, but they also remain a chance that you came to this page without having seen the show prior, but are curious to play the games, so you would want to know something about their world first. Well, no problems, as this is why this page is here in the first place, and this following part of the article tells you about the show's setting and premise, main characters, and then we tell you what kinds of friv The Owl House Games you will find and play here, and if you were ambivalent on playing the games, you won't be afterward. We follow the life of Luz, a confident teenager who one day enters a portal that gets her through a new and parallel world, instead of going to Reality Check Camp, her set destination. This new world that she ends up in is called the Boiling Isles, and they exist on the remains of a dead Titan, with the show having a classic fantasy world with all of the tropes you have grown to love over the years. In this new world, she meets and befriends Eda, an Owl Lady, and King, a tiny warrior. Eda decides to train Luz in the arts of witchcraft, because Luz has to hide as a witch, because in this world that she has ended up in, humans are prejudiced, so she needs to learn magic and protect herself, all the while interacting with her new family at the Owl House, which is the place where Eda hosts her, and where the title of the show comes from. Luz is 14, she is a Dominican-American, showing once again that Disney Channel wants to promote diverse characters. Eda is the most powerful witch on the isles, she has been cursed to have the appearance of an owl monster, and she is also a wanted criminal in hiding. King might be tiny, but he considers himself the King of Demons, and he also shares a room with Luz. Now, with a show that has an awesome premise, an interesting setting, colorful and wonderful characters, there's no surprise for us that this has slowly but surely become one of the most popular shows on the network, and while so far we have only one game to offer you, a game where you try to also train in the magical arts together with Luz, we are sure that the show's popularity will make it so that all sorts of games are going to appear in the future, and you can be sure that if you come to our website daily, you will find them here first! Now that you've become familiar with our new category of The Owl House Games from Disney Channel, waste no time at all, but start playing these great games right away, and don't forget to invite your friends to also play them, or any of our other games, since we have thousands of amazing ones waiting for you to enjoy them!