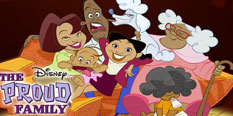 The Proud Family Games
🤔 What are The Proud Family Games?
The Proud Family Games is a category of Disney Channel Games we are very happy to have created for our website, since in it you will be able to find many awesome games that you like, which are not available in many other places, so you are bound to experience something new and interesting, like we want you to do every time that you come here!
The Proud Family Games
You are now finding yourself on The Proud Family Games category page, which is one of the many amazing categories of Disney Channel that you currently can find on our website, where we are sure that you are always having lots and lots of fun with the games we provide you all with, especially with those that are from this network, which is one of the most popular ones world-wide, with some of the most known shows all over the place. That is honestly not the case just for the current airing series and the new ones that keep on being released, but is also true for the older ones, which is why categories of games that are based on older shows that might not be airing any more are great to have, which is something we are positive you will agree with us after playing our The Proud Family Games. Of course, this is not just the only one, as there have been many such categories that we have recently created for our website, and since those have been received quite well, we have a hunch that the same will be true for this one. Of course, we believe that one of the main factors for this is the power of the internet and the many streaming services available, making it possible for older shows to still be discovered by children, making the content that they see even more diverse, and allowing us to have a more complete website with online games. Of course, this does not mean that you can only play The Proud Family Games if you have seen the show. Trust us when we say that, because some of the members of our team have played these games like this, and have enjoyed them greatly. That means that you can give up reading this description right now, and plunge into playing the games immediately, like only here is possible. Of course, on the other hand, you might want to find out more things regarding this series, so that you do not start playing the games blindly. If that is the case, then read, because you are about to find out what the show revolves around, who are the main characters in it, and after that, you will also be able to find out what kinds of online free The Proud Family Games are going to be available on this page, for you to try out! The show follows the day to day adventures of Penny Proud, as she gets older, makes new friends, interacts with her family, and learns all sorts of valuable lessons which children watching the show should also learn as well, together with her. She is a straight A student, is a good singer, wanted to be a cheerleader, and is part of her school's paper staff. Oscar is her over-protective father, who is often times hyperactive and childish, but still a solid man. Trudy is his wife, who is the level-headed one of the family, always there to make her husband see the bigger picture. BeBe and CeCe are Penny's sisters, who are twins, who love playing with their dog all the time. Interesting, right? Of course, these are just a few of the character, as this show is one with a really big cast of secondary characters, but because our space is limited, and so is your time, we thought that telling you about the four main characters who appear the most in the show is enough, especially since it is them that you are going to find the most in these online games you will be playing. As for these The Proud Family Games, it is now time to tell you what they are, because we are sure that this was the aspect that you were most curious about, right? Well, the category is quite diverse, as it is going to include golf games, decorating games, skateboarding games, bejeweled games, adventure games, and more, so the chances that you are not going to find at least one game to your liking are very low, as we believe that you are going to find plenty of games to enjoy on this page. We hope that everything we have told you here is enought to have gotten you interested in playing The Proud Family Games, which you will be doing right now, since we have reached the conclusion of this description. Remember to invite all of your friends over, who might not get the chance to play these games otherwise, and you make sure to come back daily as well. Why? Because our website is always updated with new and fresh interesting games for you to play, and if you want to be up to date with the best new content on the internet, here is the place to be!