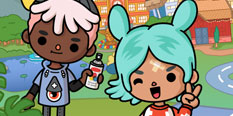 Toca Boca Games
🤔 What are Toca Boca Games?
Toca Boca Games
Toca Boca Games is a special category, something we say because instead of being based on a cartoon movie or tv series, or even a live-action one for that matter, it is actually based on a mobile app from Sweden, accessible on phones and tablets, but thanks to the category we created here you can now experience this world even from personal computers, in case you don't have that app available for your device.
The company started all the way in 2005, but its first version of the app came around in 2014, with the company focusing on the creation of digital toys, which is quite a unique concept because when you think about toys you are usually thinking about physical ones that you can play with directly.
Well, now you play with them through screens, using mice and keyboards or just your fingers, with the virtual aspect allowing for all sorts of other experiences for you to have here! One great example?
Toca Life, which is the most popular app, where you create your own toy, which becomes your avatar, and you use it to interact with other toys controlled by other real kids, providing you with an experience similar to a second life. The metaverse is already here, as you can see! This series has a lot of installments, each focusing on a different location or mission:
Town
City
School
Vacation
Farm
Stable
Hospital
Office
Pets
After School
What are the best Toca Boca Games and Apps free? Find out!
We've got Helicopter Taxi, the first app, where it uses the phone's camera to designate five locations, and kids then move a helicopter between them to pick up and drop off passengers.
In Toca Tea Party kids are invited to roleplay a tea party, where you drink, eat biscuits, gossip, and then clean up after yourselves.
Another great example is Toca Kitchen, where kids are invited to learn how to cook food in order to feed it to the four hungry characters, each with their own specific taste.
We are very happy to tell you that we've got friends who even created two original games for you to check out, one with coloring, where you become more creative, and one with memory matching, where you become smarter.
This is just the beginning, and you should come back here as often as you can to never miss out on the great games with Toca Boca we will give you here free of charge and unblocked!