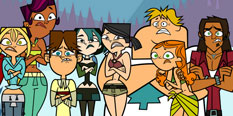 Total Drama Games
🤔 What are Total Drama Games?
Total Drama Games is without a doubt one of the most varied and most fun categories of games we have ever had on our website, with games for boys and girls alike that will make them have a great time, and no matter who you are, you are bound to find lots of content here that you enjoy a lot!
Total Drama Games
We are definitely happy to have a category of Total Drama Games on our website, since we are talking about one of the longest-running animated media franchises after 2000, which kept on bringing one awesome new show after the other, meaning lots of entertainment and fun times for everyone for more than ten years now, since the first show started airing back in 2007. Well, ever since then, its many sequels and spin-offs were being aired not only in Canada, from where it originates, but in countless other countries all over the world, thanks to Cartoon Network, so we are sure that there are lots of kids from different generations who know of these characters and would love to play some online Total Drama Games with them. Even in 2019, there is a new series in the franchise, set to be the last, called Total DramaRama, which was already renewed for a second season, so we expect it to stay on the air for a while now. The critics love the series, the audiences love the series, and all of its games so far have been amazing! Now, we are sure that most of you who have come to this page have done so because you are already aware of the franchise and have seen at least one season from it, and would like to start playing Total Drama Games at once. If that is the case, nothing is stopping you, and we invite you to do it right away. For the rest of you, who are at your first encounter with this world, we recommend you read ahead because we will now give you an overview of the series, as it would take too much time and space to tell you about each show, as there are lots of them. The show is animated and has taken inspiration in its format from Survivors, as it has two teams of contestants living on an island, facing one another in all sorts of competitions, both mental and physical. The characters are quite a lot, and all of them have distinct and interesting personalities, and because they are so different, and all of them want to get the prize money so they do schemes to get ahead and win, there are lots of comedic moments that happen, which are really crazy a lot of times, so there is no room for boredom in the shows. There is a presenter in the show, the central figure of the series whom we find in almost all if not all of the seasons, a guy by the name of Chris who really loves putting the contestants to work, and enjoys all of the crazy things they do to defeat one another. As we said, there are multiple seasons, so there are games based on all of them, which is why on our website you will be able to find Total Drama Island Games, Total Drama Action Games, Total Drama World Tour Games, Total Drama Revenge of the Island Games, Total Drama All-Stars Games, Total Drama Pahkitew Island Game, The Ridonculous Race Games, and finally, ones made for the latest series, and for which we will have a separate page in the future as well, Total DramaRama Games. Expect to find a range variety of games here, such as haircuts games, kissing games, adventure games, action games, skill games, pirate games, racing games, zombie games, hidden objects games, ninja games, shooting games, music games, and even memory games and puzzle games. One thing we are sure about, and that is that no matter what your tastes in online games are, there is no way at all that you are not going to find games you like on the Total Drama Games category, and something is telling us that once you start playing these games, you will never want to be done with them! We have now told you everything that we wanted you to know about this page, so what is left for you to do is to start playing these games and have fun with them right away, or you are missing out on the fun! If you enjoy them, make sure not to keep them to yourself, but instead invite as many friends to Friv Games Today, so they can also find them, and together you will have an even better experience, no doubt about it!